Friendship Shayri Hindi – True friendship is defined by sentiments of care, respect, admiration, concern, love, or similarity. It is not simply a connection of mutual affection between individuals.
Mere Lafzon Ko Itne Gaur Se Na Parha Karo Dosto,
Kuchh Yaad Rah Gaya Toh Mujhe Bhool Nahi Paaoge.
मेरे लफ़्ज़ों को इतने गौर से ना पढ़ा करो दोस्तों,
कुछ याद रह गया तो मुझे भूल नहीं पाओगे।
Tu Kitni Bhi KhoobSurat Kyun Na Ho Ai Zindagi,
KhushMijaaz Dosto Ke Bagair Tu Achhi Nahi Lagti.
तू कितनी भी खूबसूरत क्यूँ न हो ऐ ज़िंदगी,
खुशमिजाज़ दोस्तों के वगैर तू अच्छी नहीं लगती।
---
Sad Shayari
Sad Shayari – Due to factors like love, life, or friends, we occasionally experience extreme sadness. Our unhappy feelings are trying to escape from our hearts.
Mohabbat Haar Ke Jeena Bahut Mushkil Hota Hai,
Usey Bas Itna Bata Dena Bharam Toda Nahi Karte.
मोहब्बत हार के जीना बहुत मुश्किल होता है,
उसे बस इतना बता देना भरम तोड़ा नहीं करते।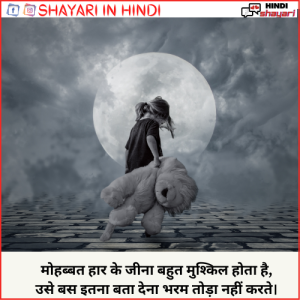 Gujrti BeQarari Mein Na Kam Kar Umar Fir Sari,
Ke Hum Bhoole Se Kar Baithe Mohabbat Ek BeDil Se.
गुजरती बेक़रारी में न कम कर उम्र फिर सारी,
कि हम भूले से कर बैठे मोहब्बत एक बेदिल से।
---
Shayari Hindi For Love
Shayari Hindi For Love – Love is an expression of seasoned heartfelt emotions. Love Shayari () is a powerful tool for expressing romantic feelings.
Badi Ajeeb Si Bandish Hai Uski Mohabbat Mein,
Na Woh Khud Qaid Kar Sake Na Hum Azaad Ho Sake.
बड़ी अजीब सी बंदिश है उसकी मोहब्बत में,
न वो खुद क़ैद कर सके न हम आज़ाद हो सके।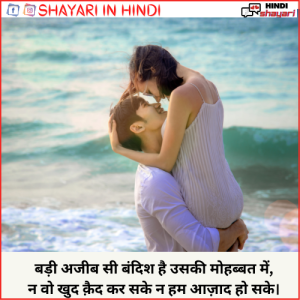 Nahi Pasand Mohabbat Mein Milawat Mujhko,
Agar Wo Mera Hai To Khwab Bhi Bas Mere Dekhe.
नहीं पसंद मोहब्बत में मिलावट मुझको,
अगर वो मेरा है तो ख्वाब भी बस मेरे देखे।