God Shayari In Hindi – We hope the God Status in Hindi and English provided below would inspire you. Despite having various names, we are aware that there is only one God.
Banaane waale ne bhi tujhe, kisi karan se banaaya hoga,
Chhoda hoga jab jamin par tujhe,
Uske sine mein bhi dard to aaya hoga,,
बनाने वाले ने भी तुझे, किसी कारण से बनाया होगा,
छोड़ा होगा जब ज़मीन पर तुझे,
उसके सीने में भी दर्द तो आया होगा..!!
Bhagwaan ka diya kabhi alp nahi hota,
Jo toot jaaye vo sankalp nahi hota,
Haar ko jeet se door hi rakhanaa,
Kyonki jeet ka koi vikalp nahi hota,,
भगवान का दिया कभी अल्प नहीं होता,
जो टूट जाये वो संकल्प नहीं होता,
हार को जीत से दूर ही रखना,
क्योकि जीत का कोई विकल्प नहीं होता..!!
---
Comedy Shayari For Girls
Comedy Shayari For Girls – Hello, guys I'm here with the most recent collection of humorous Hindi poetry. I hope you enjoy this Funny Shayari article. The humorous Shayari photos are available for download.
itna mujhe sms krte ho
paise nahi lgte tumhare
ya mujhpe marte ho
इतना मुझे SMS करते हो ,
पैसे नहीं लगते तुम्हारे
या मुझपे मरते हो।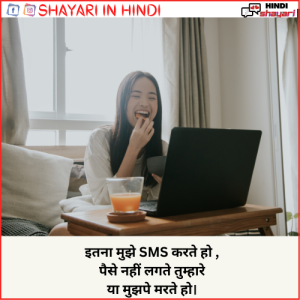 bahar aane se phle fiza aa gayi
aur fool khilne se phle bakri kha gayi
बहार आने से पहले फ़िज़ा आ गयी ,
और फूल खिलने से पहले बकरी खा गयी।
---
Jaan Shayari
Jaan Shayari – Everyone in the world can understand the language of love. Even if it can't be put into words, it may nevertheless make your heart skip a beat.
is jaan ko bus teri fikra hai
sada bus tera hi geet gati hai..
pyar bhara khat likhate huye vah
khud hi nazm ban ke gungunati hai..
इस जान को बस तेरी फिक्र हैं
सदा बस तेरा ही गीत गाती हैं..
प्यार भरा खत लिखते हुए वो
खुद ही नज़्म बनके गुनगुनाती हैै.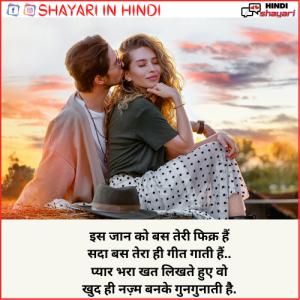 kaise kahte ho ab ki
aap humari jaan nhi hai
shiddat se maine tujhko
har pal beshumar chaha hai
कैसे कहते हो अब की
आप हमारी जान नहीं है
सिद्दत से मैंने तुझको
हरपल बेशुमार चाहा है