Good Morning Shayari – Read the greatest suprabhat sandesh () shayari, shubh prabhat shayari, and top good morning shayari of 2023 as well as new good morning shayari in Hindi ( ).
Good Morning Shayari – गुड मॉर्निंग शायरी
Subah-Subah Kaliyon Ke Khilne Ke Saath,
Naye Din Ke Ek Pyare Ehsaas Ke Saath,
Ek Naye Utsaah Aur Vishwas Ke Saath,
Din Shuru Ho Aaoka Ek Muskaan Ke Saath.
सुबह-सुबह कलियों के खिलने के साथ,
नए दिन के एक प्यारे एहसास के साथ,
एक नये उत्साह और विश्वास के साथ,
दिन शुरू हो आपका एक मुस्कान के साथ।
Ai Sooraj Mere Dost Ko Yeh Paigaam Dena,
Khushi Se Bhara Din Hansi Ki Shaam Dena,
Jab Khole Woh Subah-Subah Apni Aankhein,
Toh Uss Ke Chehre Par Pyari Si Muskaan Dena.
ऐ सूरज मेरे दोस्त को ये पेगाम देना,
खुशी से भरा दिन हँसी की शाम देना,
जब खोले वो सुबह सुबह अपनी आँखें,
तो उस के चेहरे पर प्यारी सी मुस्कान देना।
---
Shayari For Gf
Shayari For Gf – Here you may read the greatest Romantic Shayari in Hindi that a lover might feel. Share these romantic shayari with your lover, girlfriend, boyfriend, husband, wife, him, or her as a romantic hindi status or SMS to express your thoughts.
Na Tumhein Hosh Rahe Aur Na Mujhe Hosh Rahe,
Iss Qadar Toot Ke Chaaho Mujhe Pagal Kar Do.
न तुम्हें होश रहे और न मुझे होश रहे,
इस क़दर टूट के चाहो मुझे पागल कर दो।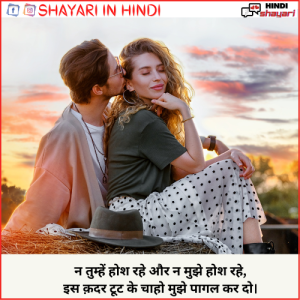 Chamka Na Karo Jugnoo Ki Tarha Raat Ko,
Le Jaunga Mutthi Mein Kisi Roz Chhupa Kar.
चमका न करो जुगनू की तरह रात को,
ले जाउंगा मुट्ठी में किसी रोज़ छुपा कर।
---
Waqt Shayari
Waqt Shayari – We are providing the most recent Waqt Par Shayari image collection. On our site, you may find the best photos, messages, quotes, and statuses.
    Ai Bure Waqt, Jara Adab Se Pesh Aa,
Waqt Nahi Lagta Waqt Badalne Mein.
ऐ बुरे वक्त, जरा अदब से पेश आ,
 वक्त नही लगता वक्त बदलने में।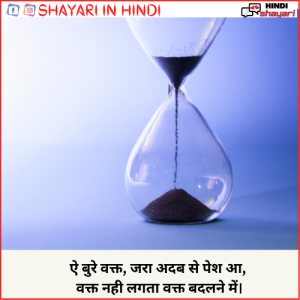 Waqt Ki Yaari To
Har Koi Kar Leta Hai,
Maza To Tab Hai Jab
Waqt Badle Aur Yaar Na Badle.
वक्त की यारी तो
    हर कोई कर लेता है,
    मजा तो तब है जब
    वक़्त बदले और यार न बदले।