Ishq Shayari In Hindi – Here is a well picked selection of Hindi Ishq shayari. On this website, you may download HD versions of every Ishq shayari. Additionally, you may use these Ishq Shayari photos as WhatsApp status updates and Instagram posts. Now go read, and have fun.
Ishq par zor nahin hai ye vo aatish ghalib,
Ki lagaae na lage aur bujhaae na bane
इश्क़ पर ज़ोर नहीं है ये वो आतिश 'ग़ालिब'
कि लगाए न लगे और बुझाए न बने
Kaun sii baat hai tum me.n aisii
Itne achchhe kyuu.n lagte ho
कौन सी बात है तुम में ऐसी
इतने अच्छे क्यूँ लगते हो
---
Couple Shayari
Couple Shayari – Hello, guys I'm here with the most recent collection of love, romantic, and best couple shayari. I hope you enjoy this post from Couple Shayari.
Kahne ko to mera dil ek hai,
Lekin jisko dil diya hai
Wo hazaro me ek hai.
कहने को तो मेरा दिल एक है,
लेकिन जिसको दिल दिया है
वो हज़ारों में एक है।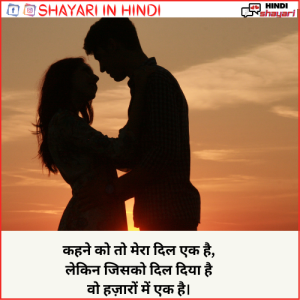 Hasna unki aadat hai,
Aur unhe dekhna meri aadat hai.
हँसना उनकीआदतहै,
और उन्हें देखना मेरीआदतहै।
---
Death Shayari
Death Shayari – The Hindi poem Maut Shayari is about dying in love. Check out our most recent collection of Hindi death shayari here.
Zindagi KashmKash-e-Ishq Ke Aagaz Ka Naam,
Maut Anjaam Hai Isee Dard Ke Afsaane Ka.
जिन्दगी कशमकश-ए-इश्क के आगाज का नाम,
मौत अंजाम इसी दर्द के अफसाने का।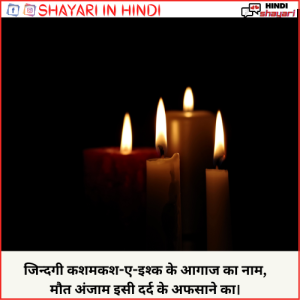 Yun To Haadson Mein Gujri Hai Humari Zindagi,
Haadsa Ye Bhi Kam Nahi Ki Humein Maut Na Mili.
यूँ तो हादसों में गुजरी है हमारी ज़िन्दगी,
हादसा ये भी कम नहीं कि हमें मौत न मिली।