Gussa Shayari – Gussa Shayari can help you successfully express your rage. a selection of the finest angry statuses that will make people smile.
Gussa itna hai ki tumse
kabhi baat bhi na karun
fir bhi dil me teri fikar
khud se jyada hai.
गुस्सा इतना है कि तुमसे कभी
बात भी न करू, फिर भी दिल
में तेरी फ़िक्र खुद से ज्यादा है।
Jab aap apne gusse par
kabu paa lete ha to ap apne
aap par kabu paa lete ho.
जब आप अपने गुस्से पर काबू पा लेते हो,
तो आप अपने आप पर काबू पा लेते हो।
---
Chai Shayari
Chai Shayari – Tea is a beverage that a sizable portion of Indians like. India is the country with the biggest global tea consumption because of this.
Chai ke nashe ka Aalam to kuch
yah hai galib koi rai bhi de to
Adarak wali bol dete hain.
चाय के नशे का आलम तो कुछ 
यह है गालिब कोई राई भी दे 
तो अदरक वाली बोल देते है..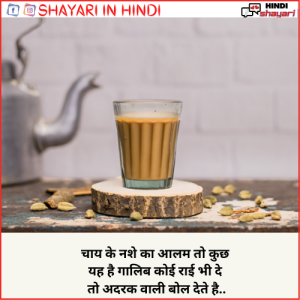 Me sukun likhun tum gangaghat
samjh lena, me ishq likhu tum
chai samjh lena..
में सुकून लिखूं तुम गंगाघाट 
समझ लेना, में इश्क़ लिखो 
तुम चाय समझ लेना। 
---
Akelapan Shayari
Akelapan Shayari – The most recent collection of Akelepan Ki Shayari with images is being shared. On our site, you may find the best photos, messages, quotes, status updates, and videos.
Meri Palkon Ka Ab Neend Se Koi Talluk Nahi Raha,
Mera Kaun Hai Yeh Sochne Mein Raat Guzar Jaati Hai.
मेरी पलकों का अब नींद से कोई ताल्लुक नही रहा,
मेरा कौन है ये सोचने में रात गुज़र जाती है…!!!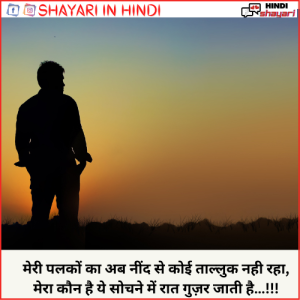 Ek Tere Na Hone Se Badal Jata Hai Sab Kuchh,
Kal Dhoop bhi Deewar Par Poori Nahi Utri.
एक तेरे ना होने से बदल जाता है सब कुछ,
कल धूप भी दीवार पे पूरी नहीं उतरी।