Life Depression Shayari – Hey Guys, if you're looking for Depression Status In Hindi for Facebook, WhatsApp, and Instagram on Google, you've arrived to the perfect spot.
Chale The Saath Manzil Ki Taraf
Tune Bich Raste Mein Akela Chhod Diya
Ab Tere Bin Rasta Bhatak Raha Hu Main
Aa Kar Dekh Kitna Tadap Raha Hu Main
चले थे साथ मंज़िल की तरफ
तूने बीच रास्ते में अकेला छोड़ दिया
अब तेरे बिन रास्ता भटक रहा हूँ मै
आ कर देख कितना तड़प रहा हूँ मै
Ruk Jaao Bas Kuchh Lamhon Ke Liye Aur
Meri Aakhri Ichha Puri Karti Jaao
Teri Baahon Mein Lipat Kar Dam Todna Chahta Hu
Ek Aakhri Baar Apni Baahon Men Bharti Jaao
रुक जाओ बस कुछ लम्हों के लिए और
मेरी आखरी इच्छा पूरी करती जाओ
तेरी बाहों में लिप्ट कर दम तोड़ना चाहता हूँ
एक आखरी बार अपनी बाहों में भरती जाओ
---
Narajgi Shayari
Narajgi Shayari – We have a fantastic Narazgi Shayari for you in this post. You may share this Shayari on social media.
Mujhse naraz ho kya
Jo nazre humse churate ho
Wo Kaunsi aisi BAAT hai
Jo hotho may Apni dabate ho
मुझसे नाराज़ हो क्या
जो नज़रे हमसे चुराते हो
वो कौनसी ऐसी बात है
जो होथो मै अपनी दबाते हो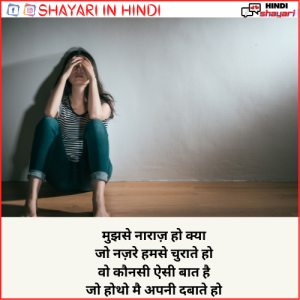 Har baat khamoshi se maan lena..
yah bhi andaaj hota hi narajgi ka..
हर बात खामोशी से मान लेना..
यह भी अंदाज़ होता है नाराज़गी का
---
Yaar Shayari
Yaar Shayari – You may share the most recent collection of friendship shayari in today's post on social media.
Waqt ki yaari to sab karte
ha maja to tab hai jab waqt
badal jaye lekin yaar na
badale.
वक्त की यारी तो सब करते हैं,
मजा तो तब है,जब वक्त बदल
जाये लेकिन यार न बदले.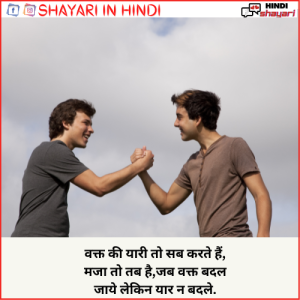 Dushman ko jalana aur
doston ke liye jaan ki baji
lagana fitrat hai humari.
दुश्मन को जलाना और दोस्त के लिए,
जान की बाजी लगाना फितरत है हमारी.