Life Shayari In Hindi – Life Shayari is about both positive and negative experiences. You may get here the most recent Hindi proverbs, sad zindagi proverbs.
Kuchh Aur Kash Laga Le Ai Zindagi,
Bujh Jaunga Kisi Roz Sulagte-Sulagte.
कुछ और कश लगा ले ऐ ज़िन्दगी,
बुझ जाऊंगा किसी रोज सुलगते सुलगते।
Chalo Bikharne Dete Hain Zindagi Ko Ab,
Sambhaalne Ki Bhi To Ek Hadd Hoti Hai.
चलो बिखरने देते है ज़िन्दगी को अब,
सँभालने की भी तो एक हद होती है।
---
Birthday Shayri In Hindi
Birthday Shayri In Hindi – With our most recent selection of birthday shayari, birthday sms, birthday quotes, and birthday status, you can wish a loved one a happy birthday.
Rangon bhari duniya ho apki
chand sitaron se saji ho duniya apki
fulon me base Aashiyana apka apne
janmdin par bas yahi dua ha rab se.
Happy Birthday..
रंगों से भरी दुनिया हो आपकी,चांद
सितारों से सजी हो दुनिया आपकी,
फूलों में बसे आशियाना आपका,आपके
जन्मदिन पर बस यही दुआ है रब से,
हैप्पी बर्थडे।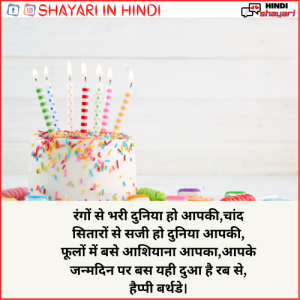 Chand chandani lekar aaya hai
chidiyon ne gaana gaya hai fulon ne
hans hans ke khilkhilaya hai mubarak
ho tumhara janmdin aaya hai.
चांद चांदनी लेकर आया है,चिड़ियों ने गाना
गाया है,फूलों ने हंस हंस के खिलखिलाया है,
मुबारक हो तुम्हारा जन्मदिन आया है।
---
Shayari Funny In Hindi
Shayari Funny In Hindi – We put together the best collection of humorous Hindi shayari for 2023. Find the funniest Majedaar Shayari, Shayari, images, and text.
Dil Mein Koi Gham Nahi Baaton Mein Koi Dam Nahi,
Yeh Grup Hai Nawabon Ka Yehan Koi Kisi Se Kam Nahi.
दिल में कोई गम नहीं बातों में कोई दम नहीं,
ये ग्रुप है नवाबो का यहाँ कोई किसीसे कम नहीं।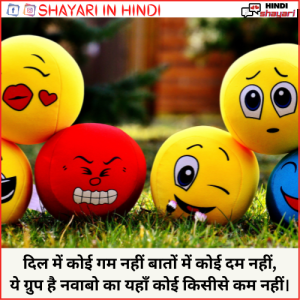 Kis Kis Ka Naam Lein Apni Barbadi Mein,
Bahut Log Aaye The Duayein Dene Shaadi Mein.
किस किस का नाम लें अपनी बरबादी में,
बहुत लोग आये थे दुआएं देने शादी में।