Love In Hindi – Lovers have always enjoyed Love Shayari. Everyone enjoys reading love poetry, even in the social media era.
Love Shayari In Hindi – लव शायरी इन हिंदी
Agar Ishq Karo To Aadaab-e-Wafa Bhi Seekho,
Yeh Chand Din Ki Bekaraari Mohabbat Nahin Hoti.
अगर इश्क करो तो आदाब-ए-वफ़ा भी सीखो,
ये चंद दिन की बेकरारी मोहब्बत नहीं होती।
Jaagne Ki Bhi Jagaane Ki Bhi Aadat Ho Jaye,
Kaash Tujhko Kisi Shayar Se Mohabbat Ho Jaye.
जागने की भी, जगाने की भी, आदत हो जाए,
काश तुझको किसी शायर से मोहब्बत हो जाए।
---
Maut Shayari
Maut Shayari – The Hindi poem Maut Shayari is about dying in love. Check out our most recent collection of Hindi death shayari here.
Tamam Umar Jo Ki Humse Be-Rukhi Sab Ne,
Kafan Mein Hum Bhi Ajeezon Se Munh Chhupa Ke Chale.
तमाम उम्र जो हमसे बेरुखी की सबने,
कफ़न में हम भी अजीज़ों से मुँह छुपा के चले।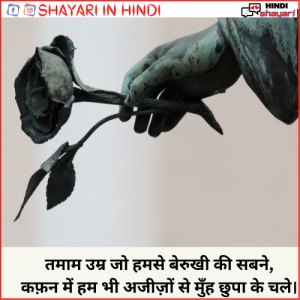 Vaade To HaJaaron Kiye The Usne Mujhse,
Kaash Ek Vaada Hi Usne Nibhaya Hota,
Maut Ka Kisko Pata Ki Kab Aayegi,
Par Kaash Usne Zinda Jalaya Na Hota.
वादे तो हजारों किये थे उसने मुझसे,
काश एक वादा ही उसने निभाया होता,
मौत का किसको पता कि कब आएगी,
पर काश उसने ज़िन्दा जलाया न होता।
---
Matlabi Shayari
Matlabi Shayari – We are providing the most recent Malabi Insan Ki Shayari image collection. On our site, you may find the best photos, messages, quotes, status updates, and videos.
unka matlabi hona bhi pasand hai humein
matlab se hi sahi yad to karte hai humein
उनका मतलबी होना भी पसंद है हमें,
मतलब से ही सही याद तो करते हैं हमें।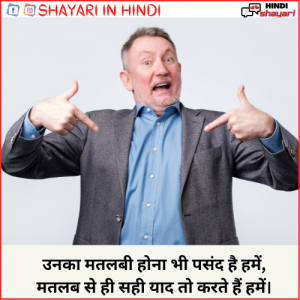 Sab matlab ki yari hai yahi
duniya ki sabse badi bimari ha.
सब मतलब की यारी है,यही
दुनिया की सबसे बड़ी बीमारी है।