Emotional Shayari – The Best Emotional Shayari For Girls & Boys Poetry in Hindi is available for download, along with Hurt Feeling Collection Wallpapers pictures and Share Friendly Status Painful Status in English.
Emotional Shayari – इमोशनल शायरी
Zindagi me kuch ese log bhi
milte ha jinhein hum paa ni
sakte sirf chah sakte ha.
जिन्दगी में कुछ ऐसे लोग भी
मिलते हैं, जिन्हें हम पा नही
सकते सिर्फ़ चाह सकते हैं.
Jo log bade khubsurat aur
masoom lagte ha pyar me
aksar wahi bewafa nikalte ha.
जो लोग बड़े खूबसूरत और मासूम
लगते हैं प्यार में अक्सर वही बेवफा
निकलते हैं।
---
Non Veg Shayari
Non Veg Shayari – Get the best non-vegetarian poetry in Urdu and 2/4 lines of non-vegetarian shayari to share with your friends and girlfriends.
Kitana adhoora lagata hai…jab baadal ho aur baareesh na ho;
Jab jindagee ho aur pyaar na ho;
Aankhen ho par khvaab na ho;
Jab khada ho aur jugaad na ho.
कितना अधूरा लगता है…जब बादल हो और बारीश ना हो;
जब जिंदगी हो और प्यार ना हो;
आंखें हो पर ख्वाब ना हो;
जब खड़ा हो और जुगाड़ ना हो।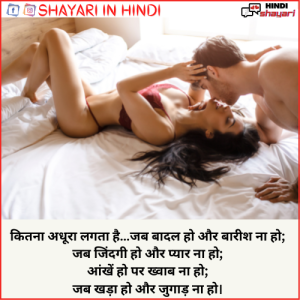 Kya Kashish thi uski aankhon mein mat poochho;
Mujh se mera dil lad pada mujhe yahee chut chaiye.
क्या कशिश थी उस की आँखों में मत पूछो;
मुझ से मेरा दिल लड़ पड़ा मुझे यही चूत चाहिए।
---
Happy Shayari
Happy Shayari – Hello, guys I'm here with the newest Happy Shayari collection. I hope you enjoy this Happy Shayari Hindi article. Downloadable Happy Shayari pictures are available.
Itna khush raho ki
Duniya pareshan ho jaye ki
Ise kis bat ki khushi h
इतना खुश रहो कि
दुनिया परेशान  हो जाये कि
इसे किस बात की ख़ुशी है।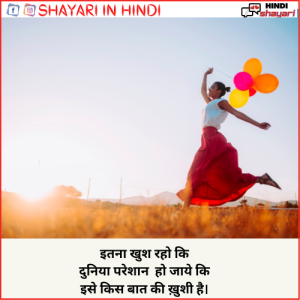 Khud ko bhi khush rkhna
Ye aapki bhut badi zimmedari h
खुद को भी खुश रखना
ये आपकी बहुत बड़ी ज़िम्मेदारी है.