Love Motivational Shayari – Motivation is a must for living a successful life. You may motivate and inspire anyone to advance in life by writing inspirational poems.
Hausle Bhi Kisi Hakeem Se Kam Nahi Hote,
Har Takleef Mein Takat Ki Davaa Dete Hain.
हौसले भी किसी हकीम से कम नहीं होते,
हर तकलीफ़ में ताकत की दवा देते हैं।
Deeya Bujhaane Ki Fitrat Badal Bhi Sakti Hai,
Koi Chirag Hawa Pe Dawaab To Daale.
दीया बुझाने की फितरत बदल भी सकती है,
कोई चिराग हवा पे दवाब तो डाले।
---
Ramzan Shayari
Ramzan Shayari – Ramadan (also known as Ramzan or Ramadhan) will be celebrated on June 1. This year, Ramadan may begin in India on the evening of April 2 or the first Ramadan.
Ramzan Men Ho Jaye Sabki Murad Puri,
Mile sabko dhero khusiya aur na rahe koi ichcha adhuri.
रमजान में हो जाए सब की मुराद पूरी
मिले सब को ढेरों खुशियां और ना रहे कोई इच्छा अधूरी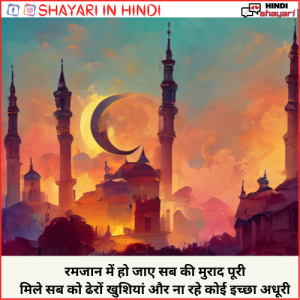 Chand Ki Pehli Dastak Pe Chand Mubarak Kehty Hain,
Sab Se Phle Hum Aap Ko Ramazan Mubarak Kehty Hain
चांद की पहली दस्तक पर चांद मुबारक कहते हैं
सबसे पहले हम आपको रमजान मुबारक कहते हैं
---
Mother Shayari
Mother Shayari – Anamol is my name. Apane bachche kee dekhabhaal karatee hai vah janm se lekar mrtyu tak. Vah hamesha kam rahegee, maa ke liye Jitni bhi baat kahanee, maa shabd ke uchchaaran maatr se saare kasht door ho jaate hain
Chalti Firti Aankho Se Ajan Dekhi He,
Mene Jannat To Nhi Dekkhi He Maa Dekhi He.
चलती फिरती आँखों से अज़ाँ देखी है,
मैंने जन्नत तो नहीं देखी है माँ देखी है |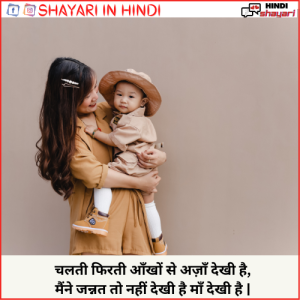 Fark nahi padta vah kitni padi likhi hai
meri maa hai jo mere liye sabse best hai
फर्क नहीं पड़ता वह कितनी पड़ी लिखी है
मेरी माँ है जो मेरे लिए सबसे बड़ी है