Beti Maa Shayari – The mother cannot be explained in words, thus no pen has the capacity to do so. Nevertheless, I want to write about the mother today, and I hope you like these heartwarming maa shayari and mom shayari.
Duniya mein sabse nyari hoti hai beti,
Maa ke liye sabse pyaari hoti hai beti !
दुनिया में सबसे न्यारी होती हैं बेटी,
माँ के लिए सबसे प्यारी होती हैं बेटी !
Is duniya ka har rishta swarth par tika hai,
Kewal maa beti ka rishta hi pyaar par tika hai !
इस दुनिया का हर रिश्ता स्वार्थ पर टिका है,
केवल माँ बेटी का रिश्ता ही प्यार पर टिका है !
---
Itna Gussa Shayari
Itna Gussa Shayari – Hello and welcome to our website, friends. Here, we were offering many Hindi shayari, Hindi quotations, and Hindi nibandhs or essays. So, use your finger to navigate and find your objective.
Gussa itna hai ki tumse
kabhi baat bhi na karun
fir bhi dil me teri fikar
khud se jyada hai.
गुस्सा इतना है कि तुमसे कभी
बात भी न करू, फिर भी दिल
में तेरी फ़िक्र खुद से ज्यादा है।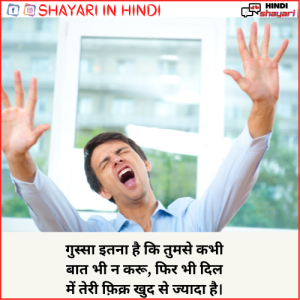 Jab aap apne gusse par
kabu paa lete ha to ap apne
aap par kabu paa lete ho.
जब आप अपने गुस्से पर काबू पा लेते हो,
तो आप अपने आप पर काबू पा लेते हो।
---
Sorry Shayari in Hindi
Sorry Shayari in Hindi – You may find the greatest apologies and sorry shayari in both Hindi and English font right here if you're looking for them.
Yun aap sorry keh kar hamein
sharminda na kiya kijiye hum
to bas apke hain humein yun
ger na karar kijiye.
यूँ आप सॉरी कह कर, हमें शर्मिंदा न
किया कीजिये, हम तो बस आपके हैं,
हमें यूँ गैर न करार कीजिये।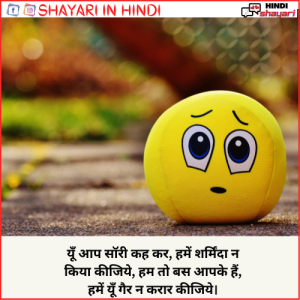 Ahankaar Dikhake Kisi Rishte Ko
Todne Se Achchha Hai,Ki Maafi
Mangakar Wo Rishta Nibhaya
Jaye. I AM SORRY.
अहंकार दिखाके किसी रिश्ते को
तोड़ने से अच्छा है, कि माफ़ी
मांगकर वो रिश्ता निभाया जाये।