Love Story Status – In the language of the heart, our shayari perfectly expresses the essence of real love. You can download high-resolution pictures that go with our shayari.
Woh Kehte Hain Ke Majboor Hain Hum,
Chahte Nahi Magar Tumse Door Hain Hum,
Chura Li Hai Dil Ki Dhadkan Humari Unhone,
Magar Fir Bhi Kehte Hain Bekasoor Hain Hum.
वो कहते हैं कि मजबूर हैं हम,
चाहते नहीं मगर तुमसे दूर हैं हम,
चुरा ली है दिल की धड़कन हमारी उन्होंने,
मगर फिर भी कहते हैं बेक़सूर हैं हम।
Kabhi Nadi Kabhi Sehra Dikhai Deta Hai,
Tumhari Aankhon Mein Kya-Kya Dikhai Deta Hai,
Main Kya Bataaun Abhi Kaun Paas Se Gujra,
Har Ek Chehra Tujh Sa Dikhai Deta Hai.
कभी नदी कभी सेहरा दिखाई देता है,
तुम्हारी आँखों में क्या-क्या दिखाई देता है,
मैं क्या बताऊँ अभी कौन पास से गुजरा,
हर एक चेहरा तुझ सा दिखाई देता है।
---
Sad Attitude Quotes
Sad Attitude Quotes – Every boy and girl aspires to create a Cool Attitude Status that accurately reflects their personalities.
Humari Istiqamat Se To Ye Duniya Bhi Waqif Hai,
Na Humne Manzilein Badalien Na Hum Ne Yaar Badle Hain.
हमारी इस्तिक़ामत से तो ये दुनिया भी वाकिफ है,
न हमने मंज़िलें बदलीं न हम ने यार बदले हैं।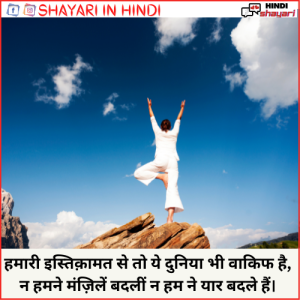 Wo Manzil Hi Badnaseeb Thi Jo Humko Paa Na Saki,
Varna Jeet Ki Kya Aukaat Jo Humein Thhukra De.
वो मंज़िल ही बदनसीब थी जो हमको पा न सकी,
वर्ना जीत की क्या औकात जो हमें ठुकरा दे।
---
Best Friend Shayari In English 2 Line
Best Friend Shayari In English 2 Line – True friendship is defined by feelings of care, respect, admiration, concern, love, or similarity.
Kismat Walon Ko Hi Milti Hai Panaah Kisi Ke Dil Mein,
Yun Har Shakhs Ko Toh Jannat Ka Pata Nahi Milta.
किस्मत वालों को ही मिलती है पनाह किसी के दिल में,
यूं हर शख़्स को तो जन्नत का पता नहीं मिलता।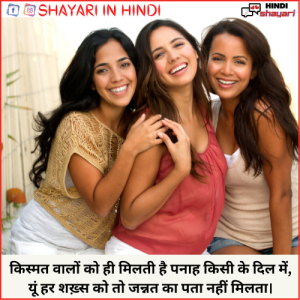 Log Kehte Hain Zamin Par Kisi Ko Khuda Nahi Milta,
Shayad Unn Logon Ko Dost Koyi Tum Sa Nahi Milta.
लोग कहते हैं ज़मीं पर किसी को खुदा नहीं मिलता,
शायद उन लोगों को दोस्त कोई तुम-सा नहीं मिलता।