Life Status Quotes – Hello guys! I've created a collection of two-line shayari in Hindi that are all about life. I hope you enjoy this two-line Hindi shayari on an article on life.
zindgi bus chlne kaa nam h,
rukna to bus ab maut par hi hoga
ज़िंदगी बस चलने का नाम है ,
रुकना तो बस अब मौत पर ही होगा
aapki tarif koi na karega,
magr ungli uthane wala shayad mohalla ho
आपकी तारीफ कोई ना करेगा ,
मगर ऊँगली उठाने वाला शायद मोहल्ला हो
---
Good Morning Ki Shayari
Good Morning Ki Shayari – I'm here with the most recent collection of Hindi good morning poetry. I hope you enjoy this Good Morning Shayari post.
Samasyae behrupiya hoti h
Hoti aashirwad h dikhti takleefe h
समस्याए बहरूपिया होती है ,
होती आशीर्वाद है दिखती तकलीफे है।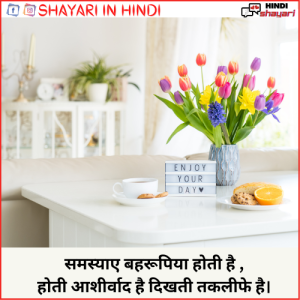 Hazaro raato me ek raat hoti h
Sukoon milta h jab tumse baat hoti h
हज़ारों रातो में एक रात होती है ,
सुकून मिलता है जब तुमसे बात होती है।
---
Insaniyat Shayari
Insaniyat Shayari – Insaaniyat shayari, aadmi shayari in hindi, insaan shayari, and insaaniyat status for Facebook and WhatsApp are all available here.
Insaniyat Ki Roshni Gumm Ho Gayi Kahan?
Saaye To Hain Aadmi Ke Magar Aadmi Kahan?
इन्सानियत की रौशनी गुम हो गई कहाँ,
साए तो हैं आदमी के मगर आदमी कहाँ?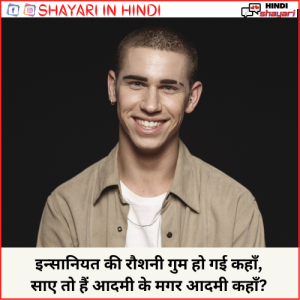 Meri Jubaan Ke Mausam Badalte Rehte Hain,
Main To Aadmi Hoon Mera Aitbaar Mat Karna.
मेरी जबान के मौसम बदलते रहते हैं,
मैं तो आदमी हूँ मेरा ऐतबार मत करना।