My Love In Hindi – Lovers have always enjoyed Loving Shayari. Everyone enjoys reading love poetry, even in the social media era.
Iss Lafz-e-Mohabbat Ka Itna Sa Fasaana Hai,
Simte To Dil-e-Aashiq Bikhre To Zamana Hai.
इस लफ्ज-ए-मोहब्बत का इतना सा फसाना है,
सिमटे तो दिल-ए-आशिक बिखरे तो जमाना है।
Meri Takmeel Mein Shamil Hain Kuchh Tere Hisse Bhi,
Hum Agar Tujhse Na Milte Toh Adhoore Rah Jate.
मेरी तकमील में शामिल हैं कुछ तेरे हिस्से भी,
हम अगर तुझसे न मिलते तो अधूरे रह जाते।
---
Inspire Quotes Hindi
Inspire Quotes Hindi – Motivation is a must for living a successful life. You may motivate and inspire anyone to advance in life by writing inspirational poems.
Ye Zindagi Hasin Hai Iss Se Pyar Karo,
Abhi Hai Raat To Subah Ka Intezar Karo,
Wo Pal Bhi Ayega Jiski Khwahish Hai Aapko,
Rab Par Rakho Bharosa Waqt Par Aitbar Karo.
ये ज़िन्दगी हसीं है इस से प्यार करो,
अभी है रात तो सुबह का इंतज़ार करो,
वो पल भी आएगा जिसकी ख्वाहिश है आपको,
रब पर रखो भरोसा वक़्त पर एतबार करो।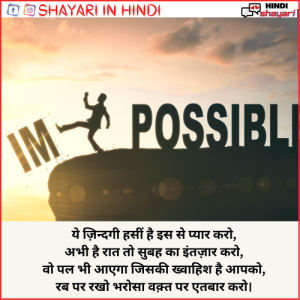 Hausle Bhi Kisi Hakeem Se Kam Nahi Hote,
Har Takleef Mein Takat Ki Davaa Dete Hain.
हौसले भी किसी हकीम से कम नहीं होते,
हर तकलीफ़ में ताकत की दवा देते हैं।
---
Hindi Shayri For Wife
Hindi Shayri For Wife – Give your wife these wife love shayari and love shayari for wife in hindi to wow her.
Waqt mile to kbhi rkhna kadam dil ke aangan me,
Hairan rah jaoge mere dil me apna mukaam dekhkar.
वक़्त मिले तो कभी रखना कदम दिल के आँगन में,
हैरान रह जाओगे मेरे दिल में अपना मुकाम देख कर…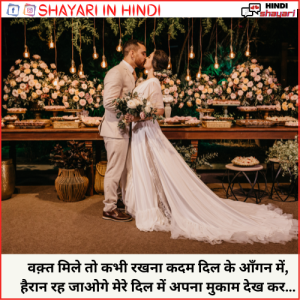 Tere palko ke kajal ko dekh seekh gaya hu main,
Ki har palko ka kajal tumhare jaisa saccha nahi hota.
तेरे पलकों के काजल को देख सीख गया हूँ मैं,
कि हर पलकों का काजल तुम्हारे जैसा सच्चा नहीं होता..!