Attitude Shayri – Read our most recent selection of Hindi attitude Shayari, status updates, and SMS here.
Patthar Bhi To Ab Mujhse Kinaara Karne Lage,
Ki Tum Na Sudhroge Meri Thokarein Kha Kar.
पत्थर भी तो अब मुझसे किनारा करने लगे,
कि तुम ना सुधरोगे मेरी ठोकरें खा कर।
Mahboob Ka Ghar Ho Ya Farishton Ki Ho Zamin,
Jo Chhod Diya Fir Usey Mudkar Nahi Dekha.
महबूब का घर हो या फरिश्तों की हो ज़मीं,
जो छोड़ दिया फिर उसे मुड़ कर नहीं देखा।
---
Poetry In Love Hindi
Poetry In Love Hindi – Lovers have always enjoyed Loving Shayari. Everyone enjoys reading love poetry, even in the social media era.
Do Char Lafz Pyar Ke Lekar Hum Kya Karenge,
Deni Hai To Wafa Ki Muqammal Kitaab De Do.
दो चार लफ्ज़ प्यार के लेकर हम क्या करेंगे,
देनी है तो वफ़ा की मुकम्मल किताब दे दो।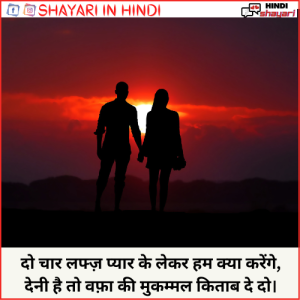 Apna To Chaahaton Mein Yahi Usool Hai,
Jab Tu Qubool Hai To Tera Sub Kuch Qubool Hai.
अपना तो चाहतों में बस यही उसूल है,
जब तू कबूल है तो तेरा सब कुछ कबूल है।
---
Friend In Hindi
Friend In Hindi – True friendship is defined by sentiments of care, respect, admiration, concern, love, or similarity. It is not simply a connection of mutual affection between individuals.
Duniyadari Mein Hum Thode Kachche Hain,
Par Dosti Ke Muamale Mein Sachche Hain,
Humari Sachayi Bas Iss Baat Par Kayam Hai,
Ki Humare Dost Humse Bhi Achchhe Hain.
दुनियादारी में हम थोड़े कच्चे हैं,
पर दोस्ती के मामले में सच्चे हैं,
हमारी सच्चाई बस इस बात पर कायम है,
कि हमारे दोस्त हमसे भी अच्छे हैं।
Ishq Aur Dosti Meri Zindgi Ke Do Jahan Hain,
Ishq Meri Rooh Toh Dosti Mera Imaan Hai,
Ishq Pe Kar Doon Fida Apni Saari Zindgi,
Magar Dosti Pe Toh Mera Ishq Bhi Qurbaan Hai.
इश्क़ और दोस्ती मेरी ज़िन्दगी के दो जहाँ है,
इश्क़ मेरा रूह तो दोस्ती मेरा ईमान है,
इश्क़ पे कर दूँ फ़िदा अपनी सारी ज़िन्दगी,
मगर दोस्ती पे तो मेरा इश्क़ भी कुर्बान है।