Motivational Shayari – Motivation is a must for living a successful life. You may motivate and inspire anyone to advance in life by writing inspirational poems.
Hausle Bhi Kisi Hakeem Se Kam Nahi Hote,
Har Takleef Mein Takat Ki Davaa Dete Hain.
हौसले भी किसी हकीम से कम नहीं होते,
हर तकलीफ़ में ताकत की दवा देते हैं।
Yahi Soch Kar Har Tapish Mein Jalta Aaya Hoon,
Dhoop Kitni Bhi Tej Ho Samandar Nahi Sookha Karte.
यही सोच कर हर तपिश में जलता आया हूँ,
धूप कितनी भी तेज हो समंदर नहीं सूखा करते।
---
Sorry In Hindi
Sorry In Hindi – Our Sorry Shayari will make it simple for you to win over your furious partner while also showing him that you love him.
Dekha Hai Aaj Mujhe Bhi Gusse Ki Najar Se,
Malum Nahi Aaj Woh Kis Kis Se Lade Hain.
देखा है आज मुझे भी गुस्से की नज़र से,
मालूम नहीं आज वो किस-किस से लड़े है।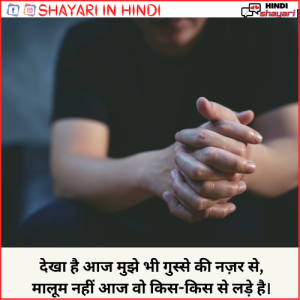 Ruthh Kar Kuchh Aur Bhi Haseen Lagte Ho,
Bas Yehi Soch Kar Tum Ko Khafa Rakha Hai.
रूठ कर कुछ और भी हसीन लगते हो,
बस यही सोच कर तुम को खफा रखा है।
---
Shayari English Funny
Shayari English Funny – The most funny SMS, killer shayari, and shayari for friends, girlfriends, husbands, and wives can all be found here.
Rehta Hai Ibaadat Mein Humein Maut Ka Khatka,
Hum Yaad Khuda Karte Hain Kar Le Na Khuda Yaad.
रहता है इबादत में हमें मौत का खटका,
हम याद ख़ुदा करते हैं कर ले न ख़ुदा याद।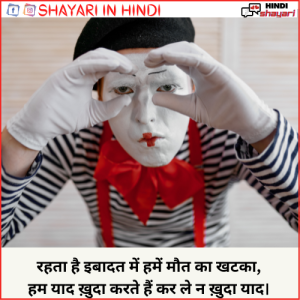 Mayyat Pe Aaye Hain Kuchh Iss Adaa Se Woh,
Sab Unn Pe Mar Mite Hain Mujhe Tanha Chhod Ke.
मय्यत पे मेरी आए हैं कुछ इस अदा से वो,
सब उन पे मर मिटे हैं मुझे तन्हा छोड़ के।