Sad Quotes In Hindi – Bollywood song Dard Bhari Shayari Dard shayari is one method through which intense emotions can be expressed when there is great pain in the heart.
Baithhe Hain RahGujar Par Dil Ka Diya Jalaye,
Shayad Wo Dard Jaane Shayad Wo Laut Aaye.
बैठे है रहगुज़र पर दिल का दिया जलाये,
शायद वो दर्द जाने, शायद वो लौट आये।
Isee Khayal Se Gujri Hai Sham-e-Gham Aksar,
Ki Dard Hadd Se Jo Barhega To Muskura Dunga.
इसी ख्याल से गुज़री है शाम-ए-ग़म अक्सर,
कि दर्द हद से जो बढ़ेगा तो मुस्कुरा दूंगा।
---
Shayari On Life
Shayari On Life – Life Shayari is about both positive and negative experiences. You may get here the most recent Hindi proverbs and sad zindagi proverbs.
Wo Mujh Se Bichhda Toh Bichhad Gayi Zindagi,
Main Zinda Toh Raha Magar Zindon Mein Na Raha.
वो मुझसे बिछड़ा तो बिछड़ गई जिंदगी,
मैं ज़िंदा तो रहा मगर ज़िंदों में न रहा।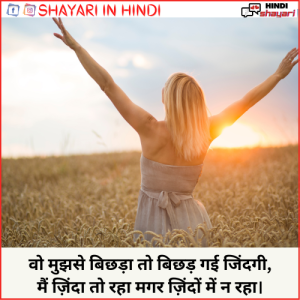 Humse Mat Puchhiye Zindagi Ke Baare Mein,
Aznabi Kya Jaane Abnabi Ke Baare Mein.
हमसे मत पूछिए ज़िन्दगी के बारे में,
अजनबी क्या जाने अजनबी के बारे में।
---
Love Shayari Hindi Mai
Love Shayari Hindi Mai – Lovers have always enjoyed Love Shayari. Everyone enjoys reading love poetry, even in the social media era.
Nahi Pasand Mohabbat Mein Milawat Mujhko,
Agar Wo Mera Hai To Khwab Bhi Bas Mere Dekhe.
नहीं पसंद मोहब्बत में मिलावट मुझको,
अगर वो मेरा है तो ख्वाब भी बस मेरे देखे।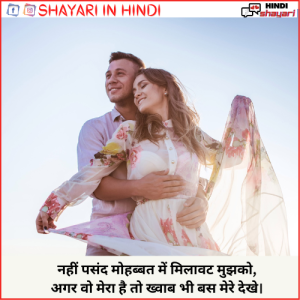 Badi Ajeeb Si Bandish Hai Uski Mohabbat Mein,
Na Woh Khud Qaid Kar Sake Na Hum Azaad Ho Sake.
बड़ी अजीब सी बंदिश है उसकी मोहब्बत में,
न वो खुद क़ैद कर सके न हम आज़ाद हो सके।