Sad Shayari in English – This is a collection of brand-new sad shayari in english for you and a close friend. You may use this shayari to communicate your emotions to anyone.\
New Sad Shayari – नई साद शायरी
Wo Tere Khat Teri Tasvir Aur Sookhe Phool,
Bahut Udaas Karti Hain Mujhko Nishaniyan Teri.
वो तेरे खत तेरी तस्वीर और सूखे फूल,
बहुत उदास करती हैं मुझको निशानियाँ तेरी।
---
Life Shayari in Hindi
Life Shayari in Hindi – Life Shayari is about both positive and negative events. Here you may get the most recent Hindi life shayari, sad zindagi shayari, greatest life shayari with image, life quotes, and Hindi zindagi status.
Life Shayari Status – लाइफ शायरी स्टेटस
Ajeeb Tarah Se Gujar Gayi Meri Bhi Zindagi,
Socha Kuchh, Kia Kuchh, Hua Kuchh, Mila Kuchh.
अजीब तरह से गुजर गयी मेरी भी ज़िन्दगी,
सोचा कुछ, किया कुछ, हुआ कुछ, मिला कुछ।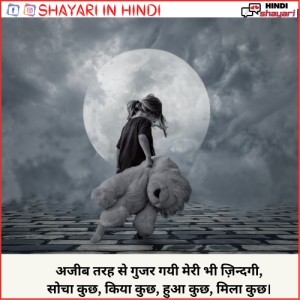 Zindagi Uss Ajnabi Mod Par Le Aayi Hai,
Tum Chup Ho Mujhse Aur Main Chup Hun Sabse.
ज़िन्दगी उस अजनबी मोड़ पर ले आई है,
तुम चुप हो मुझसे और मैं चुप हूँ सबसे।
---
Motivational Shayari in Hindi
Motivational Shayari in Hindi – Motivation is a must for living a successful life. You may motivate and inspire anyone to advance in life by writing inspirational poems. A fantastic selection of Hindi Inspirational Shayari has been provided for you.
Motivational Shayari – मोटिवेशनल शायरी
Ye Zindagi Hasin Hai Iss Se Pyar Karo,
Abhi Hai Raat To Subah Ka Intezar Karo,
Wo Pal Bhi Ayega Jiski Khwahish Hai Aapko,
Rab Par Rakho Bharosa Waqt Par Aitbar Karo.
ये ज़िन्दगी हसीं है इस से प्यार करो,
अभी है रात तो सुबह का इंतज़ार करो,
वो पल भी आएगा जिसकी ख्वाहिश है आपको,
रब पर रखो भरोसा वक़्त पर एतबार करो।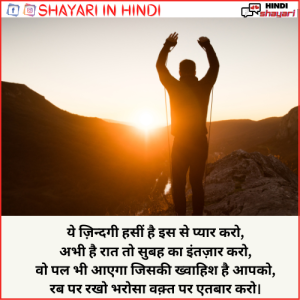 Deeya Bujhaane Ki Fitrat Badal Bhi Sakti Hai,
Koi Chirag Hawa Pe Dawaab To Daale.
दीया बुझाने की फितरत बदल भी सकती है,
कोई चिराग हवा पे दवाब तो डाले।