Baat Nahi Karne Ki Shayari – You may get Dp/photos and photograph from here, as well as 2 line Baat Na Karne Se Mohabbat Emotional Shayari in Hindi Shayari/Poetry in Urdu/Roman English for Whatsapp and Facebook.
Chhod Diya Maine Bhi Kisi Ko Pareshan Karna,
Jiski Khud Marzi Na Ho Baat Karne Ki Usse Jabardasti Kya Karna.!!!
छोड़ दिया मैंने भी किसी को परेशान करना,
जिसकी खुद मर्ज़ी ना हो बात करने की उससे जबरदस्ती क्या करना।
Taras Jaoge Mere Labon Se Kuch Sunne Ko,
Baat Karna To Dur Hum Shikayat Bhi Nahi Karenge.!!!
तरस जाओगे मेरे लबों से कुछ सुनने को,
बात करना तो दूर हम शिकायत भी नहीं करेंगे।
---
Alone Sad Shayari
Alone Sad Shayari – Read the most recent shayari about a lonely and depressed lover here. New poetry collection about Tanhai, Akelapan, and loneliness Share these Shayari, SMS, and Status with your friends, partners, or significant others, or put them as Facebook or WhatsApp statuses.
Iss Safar Mein Neend Aisi Kho Gayi,
Hum Na Soye Raat Thak Kar So Gayi.
इस सफ़र में नींद ऐसी खो गई,
हम न सोए रात थक कर सो गई।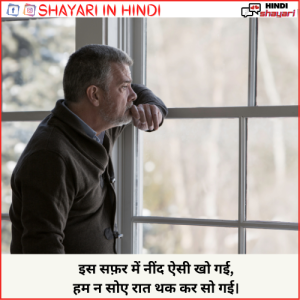 Aaj Ek Aur Baras Beet Gaya Uske Bagair,
Jis Ke Hote Huye Hote The Zamane Mere.
आज एक और बरस बीत गया उस के बग़ैर,
जिस के होते हुए होते थे ज़माने मेरे।
---
Happy Birthday Shayari
Happy Birthday Shayari – Birthdays are important life events, and they are never complete unless you send happy birthday greetings to the birthday boy or girl.
Har Din Se Pyara Lagta Hai Ye Khaas Din,
Jise Hum Bitaana Nahi Chahte Aap Bin,
Waise Woh Dil Deta Hai Sadaa Hi Duaa Aapko,
Phir Bhi Kehte Hain Mubaaraq Ho JanamDin.
हर दिन से प्यारा लगता है ये खास दिन,
जिसे हम बिताना नहीं चाहते आप बिन,
वैसे तो दिल देता है सदा ही दुआ आपको,
फिर भी कहते हैं मुबारक हो जन्मदिन..!!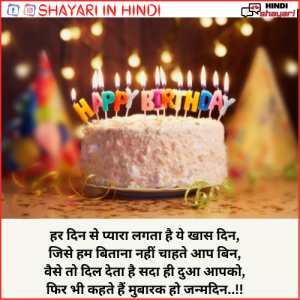 Ho Puri Dil Ki Har Khwahish Aapke,
Aur Mile Khushiyon Ka Jahan Aapko,
Agar Aap Mange Aasma Ka Ek Tara,
To Khuda Dede Sara Aasma Aapko.
Happy Birthday My Dear.
हो पूरी दिल की हर ख्वाहिश आपके,
और मिले खुशियों का जहां आपको,
अगर आप मांगें आसमां का एक तारा,
तो खुदा दे दे सारा आसमां आपको।
जन्मदिन मुबारक हो।