Sad Shayari In Hindi – Every soul carries regrets and complaints with them throughout their daily lives, and sad shayari is a representation of those feelings.
Mohabbat Haar Ke Jeena Bahut Mushkil Hota Hai,
Usey Bas Itna Bata Dena Bharam Toda Nahi Karte.
मोहब्बत हार के जीना बहुत मुश्किल होता है,
उसे बस इतना बता देना भरम तोड़ा नहीं करते।
Gujrti BeQarari Mein Na Kam Kar Umar Fir Sari,
Ke Hum Bhoole Se Kar Baithe Mohabbat Ek BeDil Se.
गुजरती बेक़रारी में न कम कर उम्र फिर सारी,
कि हम भूले से कर बैठे मोहब्बत एक बेदिल से।
---
Comedy Shayari Sms
Comedy Shayari Sms – The most funny SMS, killer shayari, and shayari for friends, girlfriends, husbands, and wives can all be found here.
Kis Kis Ka Naam Lein Apni Barbadi Mein,
Bahut Log Aaye The Duayein Dene Shaadi Mein.
किस किस का नाम लें अपनी बरबादी में,
बहुत लोग आये थे दुआएं देने शादी में।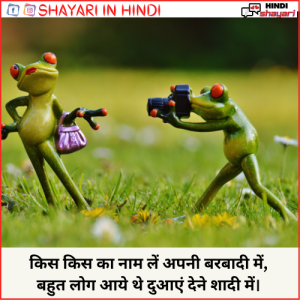 NoteBandi Ka Ek Yeh Bhi Asar Najar Aaya,
Woh Bewafa Fir Se Mere Dar Pe Najar Aaya,
नोटबंदी का एक ये भी असर नजर आया,
वो बेवफा फिर से मेरे दर पे नजर आया।
---
Hindi Shayari For Birthday
Hindi Shayari For Birthday – With our most recent selection of birthday shayari, birthday sms, birthday quotes, and birthday status, you can wish a loved one a happy birthday.
Nasib aur unche ho tumhare
sabka pyar yun hi milta rahe tumhe
dua ha rab se har safalta mile tumhe
janmdin bahut bahut shubhkamnaye.
नसीब और ऊंचे हो तुम्हारे,
सबका प्यार यूं ही मिलता रहे तुम्हें,
दुआ है रब से हर सफलता मिले तुम्हें,
जन्मदिन बहुत-बहुत शुभकामनाएं।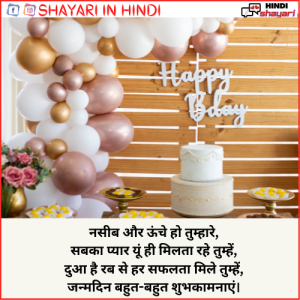 Dil Se Meri Dua Hai Ke Khush Raho Tum,
Mile Na Koi Ghum Jahan Bhi Raho Tum,
Samandar Ki Tarah Dil Hai Gehra Tumhara,
Sadaa Khushio Se Bhara Rahe Daaman
Tumhara.Happy Birthday Dear.
दिल से मेरी दुआ है कि खुश रहो तुम,
मिले न कोई गम जहाँ भी रहो तुम,
समंदर की तरह दिल है गहरा तुम्हारा,
सदा खुशियों से भरा रहे दामन तुम्हारा।
जन्मदिन मुबारक हो।