Short Love Shayari – For your own use, this page includes several different English Short Love Shayari. Use these English Love Shayari to communicate your feelings for your crush and boyfriend.
Tum puch lena subah se na
yakin ho to sham se ye dil
dhadkta ha tere hi naam se.
तुम पूछ लेना सुबह से, न यकीन
हो तो शाम से,ये दिल धड़कता है
तेरे ही नाम से।
Har din tera didar ho
fir chahe dukh hazar ho.
हर दिन तेरा दीदार हो
फिर चाहे दुःख हज़ार हो।
---
Bhai Shayari
Bhai Shayari – This Brother Status provides the greatest brother and sister love statuses, quotes, notes, and captions so that you may find the best and top examples of the amazing bonds that exist between siblings.
Bhai Ke Jaisa Payar Na Ham Kisi Se,
Kar Sakte Hai Na Koei Hame Kar Sakta Hai
भाई के जैसा प्यार ना हम किसी से कर सकते हैं,
न कोई हमें कर सकता है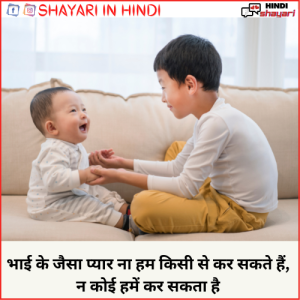 Eas Bat Se Bhle Hi Sari Duniya Jale,
Mere Husse Ki Khusiya Bhi Bhai Tujhe Mile
इस बात से भले ही सारी दुनिया जले,
मेरे हिस्से की खुशियां भी भाई तुझे मिले
---
Husband Romantic Shayari
Husband Romantic Shayari – You may effortlessly communicate your sentiments to your loved ones by using the greatest romantic shayari we have ever posted today, which we have collected for you to share on social media and as WhatsApp statuses.
Bada hi meetha nashi hai unki har baat me,
Har waqt bus unhe sunne ka hi mann karta hai.
बड़ा ही मीठा नशा है उनकी हर बात में
हर वक़्त बस उन्हें सुनने का ही मन करता है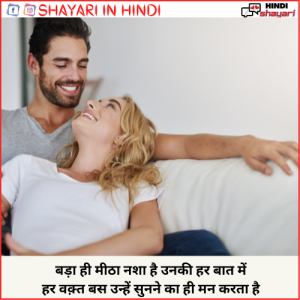 Kitna kareeb se jana tumne mujhe,
Aisa lagta hai mano parchai ho tum meri.
कितना करीब से जाना तुमने मुझे
ऐसा लगता है मानों परछाई हो तुम मेरी