Sorry Status In Hindi – We provide a free to download and use image of the Greatest Sorry Shayari Status in Hindi HD.
Ahankaar Dikhake Kisi Rishte Ko
Todne Se Achchha Hai,Ki Maafi
Mangakar Wo Rishta Nibhaya
Jaye. I AM SORRY.
अहंकार दिखाके किसी रिश्ते को
तोड़ने से अच्छा है, कि माफ़ी
मांगकर वो रिश्ता निभाया जाये।
Mujhe sirf ek cheez ki talash hai
mafi ki jiski wajah se wo roti rahi
mujhse dil lagane ke bad..
मुझे सिर्फ एक चीज की तलाश है,
माफी की जिसकी वजह से वो रोती
रहीं मुझसे दिल लगाने के बाद।
---
Unique Status Lines
Unique Status Lines – I'm going to give you access to 100+ original Shayari collections in this post so you can tell someone you care about how you really feel.
Jab aapko maza rone me hi aata h,
Zahir h hasna gunah hi lagega
जब आपको मज़ा रोने में ही आता है ,
ज़ाहिर है हसना गुन्हा ही लगेगा
Waqt bdlne ka intzar mat karo,
Aap khud ko bdlkar apna waqt badl skte h
वक़्त बदलने का इंतज़ार मत करो ,
आप खुद को बदलकर अपना वक़्त बदल सकते है
---
Style Shayari
Style Shayari – Many Two Lines Royal Attitude Shayari in Hindi with Pictures are available here for you to effortlessly share with your friends.
aap jo bhi kaam kare,
bus use shiddat se kare
आप जो भी काम करे ,
बस उसे शिद्दत से करे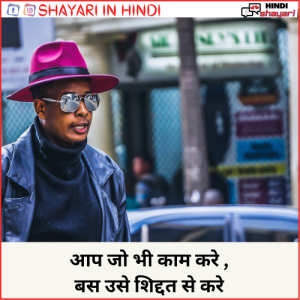 aaram me raam h,
aur dekho na raam me hi aaram h
आराम में राम है ,
और देखो ना राम में ही आराम है