Two Line Quotes – In this category, we have Two Line Shayari ( ) uploaded. You may read the largest collection of two-line short shayaris with deep significance here.
Bhare Bazaar Se Aksar Main Khali Haath Aaya Hoon,
Kabhi Khwahish Nahi Hoti Kabhi Paise Nahi Hote.
भरे बाजार से अक्सर मैं खाली हाथ आया हूँ,
कभी ख्वाहिश नहीं होती कभी पैसे नहीं होते।
Talab Karein To Main Apni Aankhein Bhi Unhe De Du,
Magar Ye Log Meri Aankhon Ke Khwab Maangte Hain.
तलब करें तो मैं अपनी आँखें भी उन्हें दे दूँ,
मगर ये लोग मेरी आँखों के ख्वाब माँगते हैं।
---
Attitude Shayari Gujarati
Attitude Shayari Gujarati – You may share the Gujarati Whatsapp Status and Attitude Status Shayari we've provided in this post with your pals.
Oye tu Gunda tu badmash hum to
srif ha mere bhai, baki kabhi ulajh
kar dekh laiye.
ओये तू गुंडा तू बदमाश हम तो सरीफ है
मेरे भाई, बाकि कभी उलझ कर देख लाइए।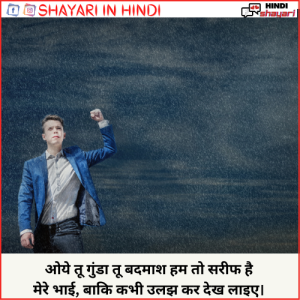 Dushmano ko jara khabar kar do
badmash fir se jungle me aa gaya.
दुश्मनो को जरा खबर कर दो
बदमाश फिर से जंगल में आ गया।
---
Sad Message
Sad Message – Here you may get all the most popular sad poetry in Urdu, shayari for females, sad wallpaper, and greatest sad messages for 2023.
Wo Tere Khat Teri Tasvir Aur Sookhe Phool,
Bahut Udaas Karti Hain Mujhko Nishaniyan Teri
वो तेरे खत तेरी तस्वीर और सूखे फूल,
बहुत उदास करती हैं मुझको निशानियाँ तेरी।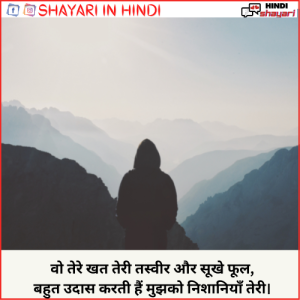 Mujhe Ye Darr Hai Teri Aarzoo Na Mit Jaye,
Bahut Dinon Se Tabiyat Meri Udaas Nahin.
मुझे ये डर है तेरी आरजू न मिट जाये,
बहुत दिनों से तबियत मेरी उदास नहीं।