2 Line Sad Shayari – Check out the most recent collection of Hindi 2 Line Shayari, SMS, and Status. These Heart Touching Two Line Shayari ( ) express numerous feelings in the heart in a little number of syllables.
Hona To Wohi Hai Jo Muqaddar Mein Likha Hai,
Lekin Wo Mere Khwaab, Mere Khwaab, Mere Khwaab.
होना तो वही है जो मुकद्दर में लिखा है,
लेकिन वो मेरे ख्वाब, मेरे ख्वाब, मेरे ख्वाब।
Naa Jaane Kis Hunar Ko Shayari Kehte Ho Tum,
Hum To Woh Likhte Hain Jo Tumse Keh Nahi Paate.
न जाने किस हुनर को शायरी कहते हो तुम,
हम तो वो लिखते हैं जो तुमसे कह नहीं पाते।
---
Shariya
Shariya – Nowadays, Shero-Shayari websites are abundant online. To post on social media, people are looking for Shayaris of their choosing.
Ruka Hua Hai Azab Dhoop-Chhanv Ka Mausam,
Gujar Raha Hai Koi Dil Se Baadalon Ki Tarah.
रुका हुआ है अज़ब धूप-छाँव का मौसम,
गुजर रहा है कोई दिल से बादलों की तरह।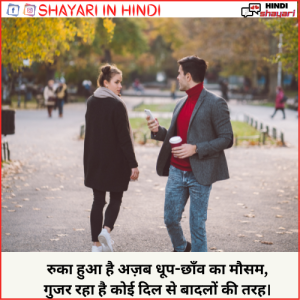 Kee Hai Koi Haseen Khata Har Khata Ke Saath,
Thoda Sa Pyar Bhi Mujhe De Do Saza Ke Saath.
की है कोई हसीन खता हर खता के साथ,
थोड़ा सा प्यार भी मुझे दे दो सज़ा के साथ।
---
Death Quotes In Hindi
Death Quotes In Hindi – The Hindi poem Maut Shayari is about dying in love. Check out our most recent collection of maut shayari, which includes marne ki shayari and death shayari in Hindi.
Zindagi KashmKash-e-Ishq Ke Aagaz Ka Naam,
Maut Anjaam Hai Isee Dard Ke Afsaane Ka.
जिन्दगी कशमकश-ए-इश्क के आगाज का नाम,
मौत अंजाम इसी दर्द के अफसाने का।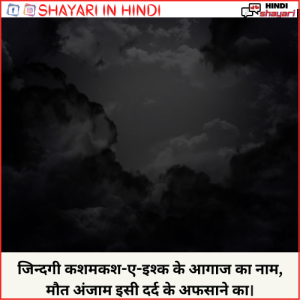 Yun To Haadson Mein Gujri Hai Humari Zindagi,
Haadsa Ye Bhi Kam Nahi Ki Humein Maut Na Mili.
यूँ तो हादसों में गुजरी है हमारी ज़िन्दगी,
हादसा ये भी कम नहीं कि हमें मौत न मिली।