Intezar Shayari – We are providing the most recent Intezar Ki Shayari image collection. On our site, you may find the best photos, messages, quotes, status updates, and videos.
Fariyad Kar Rahi Hai Ye Tarsi Huyi Nigaah,
Dekhe Huye Kisi Ko Zamana Gujar Gaya.
फरियाद कर रही है यह तरसी हुई निगाह,
देखे हुए किसी को ज़माना गुजर गया।
Ye Keh-Keh Ke Hum Dil Ko Samjha Rahe Hain,
Wo Ab Chal Chuke Hai Wo Ab Aa Rahe Hain.
ये कह-कह के हम दिल को समझा रहे हैं,
वो अब चल चुके हैं वो अब आ रहे हैं।
---
Aankhon Mein Teri
Aankhon Mein Teri – Read the latest romantic shayari on eyes, including Best Shayari on Eyes: Beautiful Eyes of Girlfriend or Boyfriend, Aankhein Shayari in Hindi, Nigah Shayari, and Najar Shayari.
Jo Soorur Hai Teri Aankhon Mein Vo Baat Kahaan Maikhane Mein,
Bas Tu Mil Jaye To Phir Kya Rakha Hai Zamane Mein.
जो सूरुर है तेरी आँखों में वो बात कहां मैखाने में,
बस तू मिल जाए तो फिर क्या रखा है ज़माने में।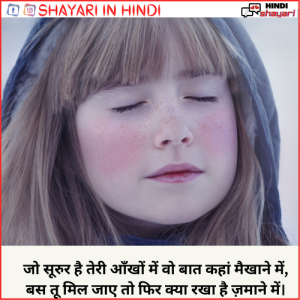 Dil ko sambhal ke rakha tha humne zamane ke nazrano se,
Kambakht Aankhon ne tumhari hume ashiq bana diya.
दिल को संभाल के रखा था हमने ज़माने के नजरानों से.
कम्बख्त आँखों ने तुम्हारी हमे आशिक़ बना दिया.!
---
Yaad 
Yaad  – A miss you shayari is always necessary if you want to convey how much you are missing someone.
Mujhe Kuchh Bhi Nahi Kehna Itni Si Gujarish Hai,
Bas Utni Baar Mil Jaao Ki Jitna Yaad Aate Ho.
मुझे कुछ भी नहीं कहना इतनी सी गुजारिश है,
बस उतनी बार मिल जाओ जितना याद आते हो।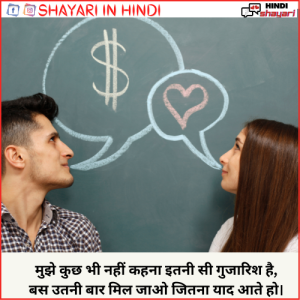 Har Ek Pehlu Tera Mere Dil Me Aabaad Ho Jaye,
Tujhe Main Iss Kadar Dekhu Mujhe Tu Yaad Ho Jaye.
हर एक पहलू तेरा मेरे दिल में आबाद हो जाये,
तुझे मैं इस क़दर देखूं मुझे तू याद हो जाये।