2 Line Shayari On Life – With HD shayari pictures available for download, Zindagi Shayari is also available in Urdu and Hindi.
meri har sans mein tu
hai meri har Khushi
mein tu hai Tere bin
jindagi kuchh nahin
kyunki meri Puri jindagi
hi tu hai.
मेरी हर सांस में तू हैं,मेरी हर
ख़ुशी में तू हैं,तेरे बिन जिन्दगी
कुछ नहीं क्योंकि मेरी पूरी
जिन्दगी ही तू हैं।
Maine jindagi ki gadi se
vah side gilas hi hata diye
jismein piche chhutate raste
or burai karte log najar ate the.
मैंने जिंदिगी की गाड़ी से वो
साइड ग्लास ही हटा दिए,
जिसमे पीछे छूटते रस्ते और
बुराई करते लोग नजर आते थे.
---
Love Shayari Please
Love Shayari Please – On our site, you may find the best photos, messages, quotes, status updates, and videos. Please feel free to download and WhatsApp them.
Tum Hakiqat Ho Ya Fareb Meri Aankhon Ka,
Na Dil Se Nikalte Ho Na Zindagi Mein Aate Ho.
तुम हकीकत हो या फरेब मेरी आँखों का,
न दिल से निकलते हो न जिंदगी में आते हो।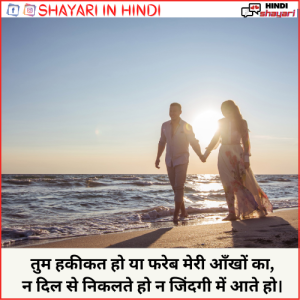 Nahi Pasand Mohabbat Mein Milawat Mujhko,
Agar Wo Mera Hai To Khwab Bhi Bas Mere Dekhe.
नहीं पसंद मोहब्बत में मिलावट मुझको,
अगर वो मेरा है तो ख्वाब भी बस मेरे देखे।
---
Shayari In Hindi On Dosti
Shayari In Hindi On Dosti – The most recent collection of Hindi Two Lines Dosti Shayari is available here for you to read and copy with ease.
beshak dost se fasla ho jaye
magar uski dosti se fasla kabhi mat karna
बेशक दोस्त से फासला हो जाए ,
मगर उसकी दोस्ती से फासला कभी मत करना।
foolo sa taza rhta h sama mera
jab mil jata h ae dost sath tera
फूलों–सा ताज़ा रहता है समां मेरा ,
जब मिल जाता है ए–दोस्त साथ तेरा।