Attitude Lyrics In Hindi – The most recent 71+ Two Line Khatarnak Attitude Shayari for Boys in Hindi can be found in this post.
Patthar Bhi To Ab Mujhse Kinaara Karne Lage,
Ki Tum Na Sudhroge Meri Thokarein Kha Kar
पत्थर भी तो अब मुझसे किनारा करने लगे,
कि तुम ना सुधरोगे मेरी ठोकरें खा कर।
Jubaan Par Mohar Lagana Koi Badi Baat Nahi,
Badal Sako To Badal Do Mere Khayalon Ko.
जुबां पर मोहर लगाना कोई बड़ी बात नहीं,
बदल सको तो बदल दो मेरे खयालों को।
---
Zindagi Shayari
Zindagi Shayari – Downloadable HD shayari images for Zindagi Shayari in Hindi and Urdu. With the help of these touching shayari on Zindagi, embrace the beauty of life.
Har khwab aur har khwahish
puri ni hoti har kisi ki zindagi
me aap zaruri nahi hote.
हर ख्वाब और हर ख्वाहिशें पूरी
नहीं होती, हर किसी के ज़िंदगी
में आप जरुरी नहीं होते.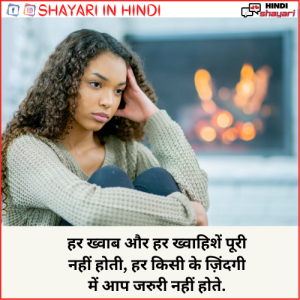 ham sab ki jindagi ka bus ek
hi fasana hai mitti se Bane
ha aur mitti me hi mil jana h.
हम सबकी ज़िंदगी का बस एक ही
फसाना है,मिट्टी से बने है और मिट्टी
में ही मिल जाना है.
---
Hard Shayari
Hard Shayari – Featuring HD shayari photos available for download, Zindagi Shayari in Hindi and Urdu.
Jujhti Rahi bikharati Rahi
tutati Rahi kuchh is tarah
jindagi nikharti Rahi..
जूझती रही, बिखरती रही, टूटती रही,
कुछ इस तरह ज़िन्दगी निखरती रही।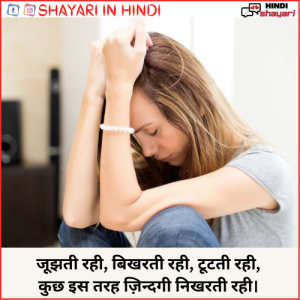 manjilen mujhe chhod gai
raste mein Sambhal liya
jindagi Teri jarurat nahin
mujhe hath Sone pa liya.
मंजिलें मुझे छोड़ गयी रास्तों ने
संभाल लिया जिंदगी तेरी जरूरत
नहीं मुझे हादसों ने पाल लिया.