Aankhen Shayari – On this website, you may download HD versions of every Aankhein shayari. Additionally, you may use these Aankhein Shayari photos as WhatsApp status updates and Instagram posts.
Paigaam Liya Hai Kabhi Paigaam Diya Hai,
Aankhon Ne Mohabbat Mein Bada Kaam Kiya Hai.
पैगाम लिया है कभी पैगाम दिया है,
आँखों ने मोहब्बत में बड़ा काम किया है।
Jaati Hai Iss Jheel Ki Gehraayi Kahan Tak,
Aankhon Mein Teri Doob Ke Dekhenge Kisi Roj.
जाती है इस झील की गहराई कहाँ तक,
आँखों में तेरी डूब के देखेंगे किसी रोज।
---
2 Line Shayari
2 Line Shayari – In this category, we have Two Line Shayari ( ) uploaded. You may read the largest collection of two-line short shayaris with deep significance here.
Bhare Bazaar Se Aksar Main Khali Haath Aaya Hoon,
Kabhi Khwahish Nahi Hoti Kabhi Paise Nahi Hote.
भरे बाजार से अक्सर मैं खाली हाथ आया हूँ,
कभी ख्वाहिश नहीं होती कभी पैसे नहीं होते।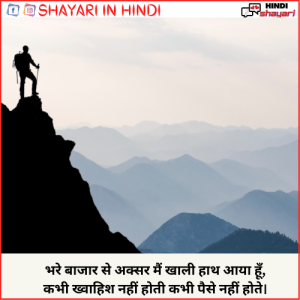 Main Ek Shaam Jo Roshan Deeya Uthha Laya,
Tamaam Shahar Kahin Se Hawa Uthha Laya.
मैं एक शाम जो रोशन दीया उठा लाया,
तमाम शहर कहीं से हवा उठा लाया।
---
Ishq Express Shayari
Ishq Express Shayari – Everybody would desire to experience Ishq Shayari, which is another word for romance, at least once in their lives.
Mera ishq itna gehera hai ki
Samander bhi ussme doob jaye
मेरा इश्क़ इतना गहरा है कि  
समंदर भी उसमे डूब जाए।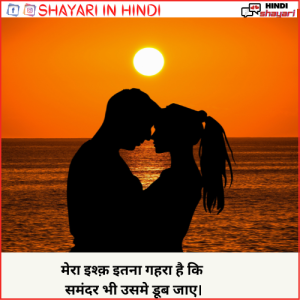 Issme nuksaan
Aur fayeda kaisa
Yeh ishq hai
Karobaar nahi
इसमें में नुक्सान 
और फ़ायदा कैसा 
यह इश्क़ है 
कारोबार नहीं।