Good Night Love – Sleep soundly and dream wonderful dreams because every day I get to spend with you is the finest day of my life. I hope you are snugly nestled in.
Ai Chand Mere Dost Ko Ek Tohfa Dena,
Taaro Ki Mehfil Ke Sapne De Dena,
Chhupa Dena Tum Andhere Ko Roshni Se,
Is Raat Ke Bad Ek Khoobsurat Svera Dena.
Good Night Dear!
ऐ चाँद मेरे दोस्त को एक तोहफा देना,
तारों की महफ़िल के सपने दे देना,
छुपा देना तुम अंधेरों को रौशनी से,
इस रात के बाद एक खूबसूरत सवेरा देना।
गुड नाईट।
Honthh Keh Nahi Sakte Fasaana Dil Ka,
Shayad Najar Se Humari Baat Ho Jaaye,
Is Ummeed Mein Karte Hain Intezaar Raat Ka,
Ki Shayad Sapne Mein Hi Mulakat Ho Jaaye.
G.Night
होंठ कह नहीं सकते फ़साना दिल का,
शायद नजर से हमारी बात हो जाए,
इस उम्मीद में करते हैं इंतज़ार रात का,
शायद सपने में ही मुलाकात हो जाये।
शुभरात्रि।
---
Success Motivational Shayari
Success Motivational Shayari – Everyone needs to find a motivational shayari with some energising phrases because life is so unpredictable.
Kisi Ke sath Time west karne se achha hai
wo time apne sapne ko pura karne mein
invest karo.
किसी के साथ टाइम वेस्ट करने से अच्छा है
वो टाइम अपने सपने को पूरा करने में इन्वेस्ट करो।
Apne sanghars karne ki shamta
ko badao safalta milna tay hai.
अपने संघर्ष करने की क्षमता को
बढ़ाओ, सफलता मिलना तय है .
---
Dard Sad Shayari
Dard Sad Shayari – Dard Bhari Shayari experiences a great deal of suffering. The most recent collection of Dard Shayari in Hindi with English typeface is shown below.
Bahut Dard Hai Ai Jaan-e-Adaa Teri Mohabbat Mein,
Kaise Keh Doon Ki Tujhe Wafa Nibhani Nahi Aati.
बहुत दर्द हैं ऐ जान-ए-अदा तेरी मोहब्बत में,
कैसे कह दूँ कि तुझे वफ़ा निभानी नहीं आती।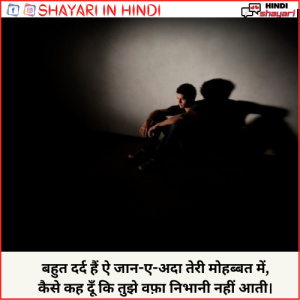 Kitna Lutf Le Rahein Hain Log Mere Dard-o-Gham Ka,
Ai Ishq Dekh Tu Ne To Mera Tamaasha Hi Bana Diya.
कितना लुत्फ ले रहे हैं लोग मेरे दर्द-ओ-ग़म का,
ऐ इश्क़ देख तूने तो मेरा तमाशा ही बना दिया।