Attitude Life Shayari –  Read our most recent selection of Hindi attitude Shayari, status updates, and SMS here.
Humari Haisiyat Ka Andaza Tum Ye Jaan Ke Laga Lo,
Hum Kabhi Unke Nahi Hote Jo Har Kisi Ke Ho Gaye.
हमारी हैसियत का अंदाज़ा तुम ये जान के लगा लो,
हम कभी उनके नहीं होते जो हर किसी के हो गए।
Mahboob Ka Ghar Ho Ya Farishton Ki Ho Zamin,
Jo Chhod Diya Fir Usey Mudkar Nahi Dekha.
महबूब का घर हो या फरिश्तों की हो ज़मीं,
जो छोड़ दिया फिर उसे मुड़ कर नहीं देखा।
---
Teri Aankhon Mein
Teri Aankhon Mein – Bas Tu Mil Jaye To Phir Kya Rakha Hai Zamane Mein, Jo Soorur Hai Teri Aankhon Mein Vo Baat Kahaan Maikhane Mein.
Paigaam Liya Hai Kabhi Paigaam Diya Hai,
Aankhon Ne Mohabbat Mein Bada Kaam Kiya Hai.
पैगाम लिया है कभी पैगाम दिया है,
आँखों ने मोहब्बत में बड़ा काम किया है।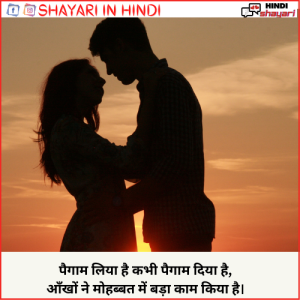 Jaati Hai Iss Jheel Ki Gehraayi Kahan Tak,
Aankhon Mein Teri Doob Ke Dekhenge Kisi Roj.
जाती है इस झील की गहराई कहाँ तक,
आँखों में तेरी डूब के देखेंगे किसी रोज।
---
Bewafa Lyrics
Bewafa Lyrics – Bewafa Shayari in Hindi and Urdu with download-ready HD shayari graphics. This is a well picked selection of Hindi Bewafa shayari.
Tera Khayal Dil Se Mitaya Nahi Abhi,
BeWafa Maine Tujhko Bhulaya Nahi Abhi.
तेरा ख्याल दिल से मिटाया नहीं अभी,
बेवफा मैंने तुझको भुलाया नहीं अभी।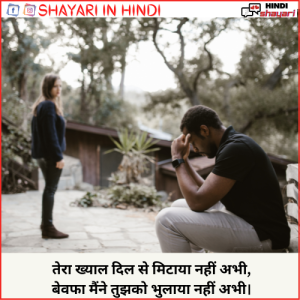 Humse Na Kariye Baatein Yoon Berukhi Se Sanam,
Hone Lage Ho Kuchh-Kuchh Bewafa Se Tum.
हमसे न करिये बातें यूँ बेरुखी से सनम,
होने लगे हो कुछ-कुछ बेवफा से तुम।