2 Line Life Shayari – Check out the most recent collection of Hindi 2 Line Shayari, SMS, and Status. These Heart Touching Two Line Shayari ( ) express numerous feelings in the heart in a little number of syllables.
Hona To Wohi Hai Jo Muqaddar Mein Likha Hai,
Lekin Wo Mere Khwaab, Mere Khwaab, Mere Khwaab.
होना तो वही है जो मुकद्दर में लिखा है,
लेकिन वो मेरे ख्वाब, मेरे ख्वाब, मेरे ख्वाब।
Wo Ek Raat Jala To Use Chiragh Keh Diya,
Hum Barson Se Jal Rahe Hain Koi To Khitaab Do.
वो एक रात जला तो उसे चिराग कह दिया,
हम बरसों से जल रहे हैं कोई तो खिताब दो।
---
What Is Love In Hindi
What Is Love In Hindi – Lovers have always enjoyed Love Shayari. Everyone enjoys reading love poetry, even in the social media era.
Kitaab-e-Dil Mein Bhi Rakha To Tazagi Na Gayi,
Tere Khayal Ka Jalwa Gulaab Jaisa Hai.
किताब-ए-दिल में भी रखा तो ताज़गी ना गई,
तेरे ख्याल का जलवा गुलाब जैसा है।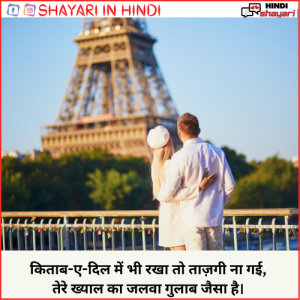 Tere Khayal Mein Jab BeKhayal Hota Hoon,
Jara Si Der Ko Hi Sahi BeMisaal Hota Hoon.
तेरे ख्याल में जब बेख्याल होता हूँ,
जरा सी देर को ही सही बेमिसाल होता हूँ।
---
Dukh Bhari Shayari
Dukh Bhari Shayari – The most recent 125+ Sad Shayari in Hindi, which are fresh and original in the poetry world, are provided in this article.
Kisi Ko Kya Bura samajhna
bole to ham Hain Jo har kisi
Ko achcha samajh baithte Ha.
किसी को क्या बुरा समझना बुरे
तो हम हैं जो हर किसी को अच्छा
समझ बैठते हैं।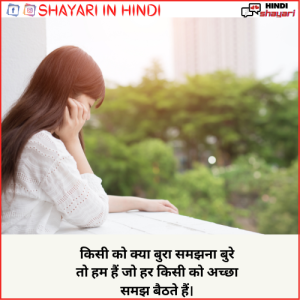 Pyaar Mein Dhokha Dene Ke
Lie ShukriyaTum Na Milate To
Duniya Samajh Mein Na Aate.
प्यार में धोखा देने के लिए शुक्रिया,तुम
ना मिलते तो दुनिया समझ में न आती.