Beautiful Shayari – Hello guys! I have the most recent collection of girl's beauty shayari in Hindi. I sincerely hope you like this post about Beauty Shayari for Beautiful Girl.
Kuch apna andaz hai kuch mausam rangeen hai,
Tariff karu ya chup rahu zurm dono hi sangeen hai
कुछ अपना अंदाज हैं कुछ मौसम रंगीन हैं,
तारीफ करूँ या चुप रहूँ जुर्म दोनो ही संगीन हैं।
Roz ek taaja sher kaha tak likhu tere liye,
Tujhme to roz hi ek nayi baat hua karti hai.
रोज इक ताज़ा शेर कहाँ तक लिखूं तेरे लिए,
तुझमें तो रोज ही एक नई बात हुआ करती है
---
Tera Nasha
Tera Nasha – Lovers have always enjoyed Love Shayari. Everyone enjoys reading love poetry, even in the social media era.
Tu Haqeekat-e-Ishq Hai Ya Koi Fareb,
Zindgi Mein Aati Nahi Khwabon Se Jati Nahi.
तू हकीकत-ए-इश्क है या कोई फरेब,
ज़िन्दगी में आती नहीं ख़्वाबों से जाती नहीं।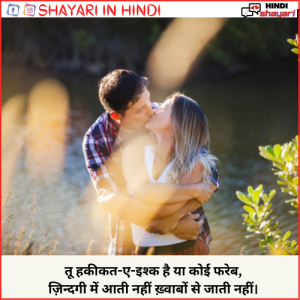 Tera Zikr Teri Fikr Tera Ehsaas Tera Khayal,
Tu Khuda To Nahi Phir Har Jagah Kyun Hai.
तेरा ज़िक्र तेरी फ़िक्र तेरा एहसास तेरा ख्याल,
तू खुदा तो नहीं फिर हर जगह क्यों है।
---
Waqt Ki Baatein Lyrics
Waqt Ki Baatein Lyrics – We are providing the most recent Waqt Par Shayari image collection. On our site, you may find the best photos, messages, quotes, and statuses.
  Ai Bure Waqt, Jara Adab Se Pesh Aa,
Waqt Nahi Lagta Waqt Badalne Mein.
 ऐ बुरे वक्त, जरा अदब से पेश आ,
      वक्त नही लगता वक्त बदलने में।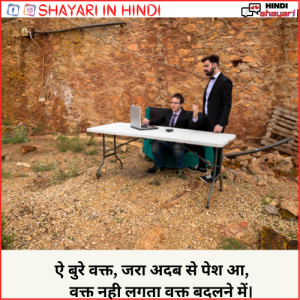 Waqt Ki Yaari To
Har Koi Kar Leta Hai,
Maza To Tab Hai Jab
Waqt Badle Aur Yaar Na Badle.
वक्त की यारी तो
    हर कोई कर लेता है,
    मजा तो तब है जब
    वक़्त बदले और यार न बदले।