Best Love Shayari – Lovers have always enjoyed Love Shayari. Everyone enjoys reading love poetry, even in the social media era.
Agar Ishq Karo To Aadaab-e-Wafa Bhi Seekho,
Yeh Chand Din Ki Bekaraari Mohabbat Nahin Hoti.
अगर इश्क करो तो आदाब-ए-वफ़ा भी सीखो,
ये चंद दिन की बेकरारी मोहब्बत नहीं होती।
Jaagne Ki Bhi Jagaane Ki Bhi Aadat Ho Jaye,
Kaash Tujhko Kisi Shayar Se Mohabbat Ho Jaye
जागने की भी, जगाने की भी, आदत हो जाए,
काश तुझको किसी शायर से मोहब्बत हो जाए।
---
Yeh Vaada Raha
Yeh Vaada Raha – Promise Day is observed on February 11. People who are in a romantic relationship or who have a charming friendship take vows and obligations to keep on this day.
Iss Lafz-e-Mohabbat Ka Itna Sa Fasaana Hai,
Simte To Dil-e-Aashiq Bikhre To Zamana Hai.
इस लफ्ज-ए-मोहब्बत का इतना सा फसाना है,
सिमटे तो दिल-ए-आशिक बिखरे तो जमाना है।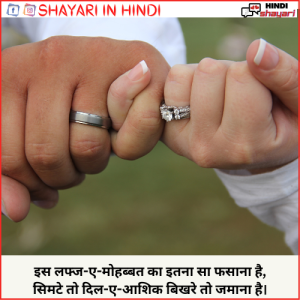 Meri Takmeel Mein Shamil Hain Kuchh Tere Hisse Bhi,
Hum Agar Tujhse Na Milte Toh Adhoore Rah Jate.
मेरी तकमील में शामिल हैं कुछ तेरे हिस्से भी,
हम अगर तुझसे न मिलते तो अधूरे रह जाते।
---
Dosti Par Shayari
Dosti Par Shayari – True friendship is defined by sentiments of care, respect, admiration, concern, love, or similarity. It is not simply a connection of mutual affection between individuals.
Door Ho Jaayein Toh Jara Intezaar Kar Lena,
Apne Dil Mein Itna Toh Aitbaar Kar Lena,
Laut Ke Aayenge Hum Agar Kahin Chale Bhi Gaye,
Aap Bas Humse Dosti Barakaraar Kar Lena.
दूर हो जाएँ तो जरा इंतज़ार कर लेना,
अपने दिल में इतना तो ऐतबार कर लेना,
लौट के आयेंगे हम अगर कहीं चले भी गए,
आप बस हमसे दोस्ती बरकरार कर लेना।
Mere Lafzon Ko Itne Gaur Se Na Parha Karo Dosto,
Kuchh Yaad Rah Gaya Toh Mujhe Bhool Nahi Paaoge.
मेरे लफ़्ज़ों को इतने गौर से ना पढ़ा करो दोस्तों,
कुछ याद रह गया तो मुझे भूल नहीं पाओगे।