Couple Shayari – Hello, guys I'm here with the most recent collection of love, romantic, and best couple shayari. I sincerely hope you enjoy this Couple Shayari article.
Kahne ko to mera dil ek hai,
Lekin jisko dil diya hai
Wo hazaro me ek hai.
कहने को तो मेरा दिल एक है,
लेकिन जिसको दिल दिया है
वो हज़ारों में एक है ।
Hasna unki aadat hai,
Aur unhe dekhna meri aadat hai.
हँसना उनकी आदत है,
और उन्हें देखना मेरी आदत है।
---
Maa Dp
Maa Dp – In our world, there is no alternative for a mother, who is regarded as the second manifestation of God.
Sar Par Jo Haath Fere To Himmat Mil Jaye,
Maa Ek Baar Muskura De To Jannat Mil Jaye.
सर पर जो हाथ फेरे तो हिम्मत मिल जाये,
माँ एक बार मुस्कुरा दे तो जन्नत मिल जाये।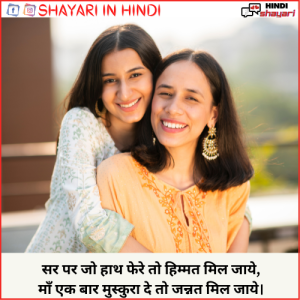 Chalti Firti Aankhon Se Azaan Dehi Hai,
Maine Jannat To Nahi Dekhi Hai Maa Dekhi Hai.
चलती फिरती आँखों से अज़ाँ देखी है,
मैंने जन्नत तो नहीं देखी है माँ देखी है।
---
Dil Hai Ki Manta Nahin
Dil Hai Ki Manta Nahin – Read Hindi shayari here on many feelings and mental states, including dil ki baatein, dil ka dard, and zakhmi dil.
Manta Hi Nahi Kambakht Dil Usey Chahne Se,
Main Haath Jodta Hoon To Ye Gale Pad Jata Hai.
मानता ही नहीं कमबख्त दिल उसे चाहने से,
मैं हाथ जोड़ता हूँ तो ये गले पड़ जाता है।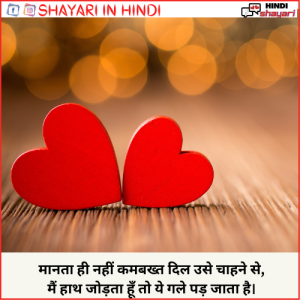 Na Poochh Dil Ki Hakiqat Magar Ye Kehta Hai,
Wo Bhi Bekaraar Rahe Jisne Bekarar Kiya.
न पूछ दिल की हकीक़त मगर ये कहता है,
वो भी बेक़रार रहे जिसने बेक़रार किया।
+
z441xcnN