Bewafa Shayari – Bewafa Shayari in Hindi and Urdu with download-ready HD shayari graphics. This is a well picked selection of Hindi Bewafa shayari.
Tera Khayal Dil Se Mitaya Nahi Abhi,
BeWafa Maine Tujhko Bhulaya Nahi Abhi.
तेरा ख्याल दिल से मिटाया नहीं अभी,
बेवफा मैंने तुझको भुलाया नहीं अभी।
Seekh Kar Gaya Hai Wo Mohabbat Mujhse,
Jis Se Bhi Karega Be-Misaal Karega.
सीख कर गया है वो मोहब्बत मुझसे,
जिस से भी करेगा बेमिसाल करेगा।
---
Lonely Messages In Hindi
Lonely Messages In Hindi – Read the most recent shayari about a lonely and depressed lover here. New poetry collection about Tanhai, Akelapan, and loneliness
Iss Safar Mein Neend Aisi Kho Gayi,
Hum Na Soye Raat Thak Kar So Gayi.
इस सफ़र में नींद ऐसी खो गई,
हम न सोए रात थक कर सो गई।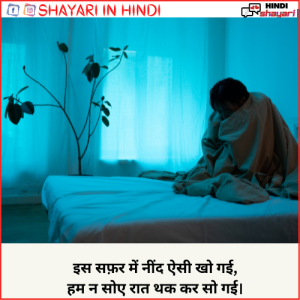 Jaagne Ka Azaab Seh-Seh Kar,
Apne Andar Hi So Gaya Hoon Main.
जागने का अज़ाब सह-सह कर,
अपने अंदर ही सो गया हूँ मैं।
---
Hindi Miss You Shayari
Hindi Miss You Shayari – A miss you shayari is always necessary if you want to convey how much you are missing someone.
Mujhe Kuchh Bhi Nahi Kehna Itni Si Gujarish Hai,
Bas Utni Baar Mil Jaao Ki Jitna Yaad Aate Ho.
मुझे कुछ भी नहीं कहना इतनी सी गुजारिश है,
बस उतनी बार मिल जाओ जितना याद आते हो।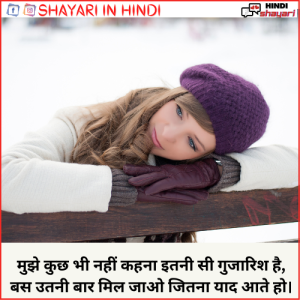 Har Ek Pehlu Tera Mere Dil Me Aabaad Ho Jaye,
Tujhe Main Iss Kadar Dekhu Mujhe Tu Yaad Ho Jaye.
हर एक पहलू तेरा मेरे दिल में आबाद हो जाये,
तुझे मैं इस क़दर देखूं मुझे तू याद हो जाये।