Dosti Shayri – Dosti shayari in Hindi is a fantastic way to convey your emotions to devoted friends in a lovely way.
Tum Dost Ban Ke Aise Aaye Zindagi Mein,
Ki Hum Yeh Zamana Hi Bhool Gaye,
Tumhein Yaad Aaye Na Aaye Humari Kabhi,
Par Hum To Tumhein Bhulaana Hi Bhool Gaye.
तुम दोस्त बनके ऐसे आए ज़िन्दगी में,
कि हम ये जमाना ही भूल गये,
तुम्हें याद आए न आए हमारी कभी,
पर हम तो तुम्हें भुलाना ही भूल गये।
Rishton Se Badi Chahat Aur Kya Hogi,
Dosti Se Badi Ibaadat Aur Kya Hogi,
Jise Dost Mil Sake Koyi Aap Jaisa,
Use Zindagi Se Koyi Aur Shikayat Kya Hogi
रिश्तों से बड़ी चाहत और क्या होगी,
दोस्ती से बड़ी इबादत और क्या होगी,
जिसे दोस्त मिल सके कोई आप जैसा,
उसे ज़िन्दगी से कोई और शिकायत क्या होगी।
---
Dard Bhari Shayari
Dard Bhari Shayari – Dard Bhari Shayari experiences a great deal of suffering. The most recent collection of Dard Shayari in Hindi with English typeface is shown below.
Bahut Dard Hai Ai Jaan-e-Adaa Teri Mohabbat Mein,
Kaise Keh Doon Ki Tujhe Wafa Nibhani Nahi Aati
बहुत दर्द हैं ऐ जान-ए-अदा तेरी मोहब्बत में,
कैसे कह दूँ कि तुझे वफ़ा निभानी नहीं आती।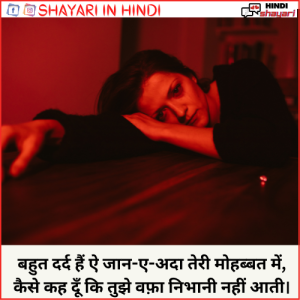 Kitna Lutf Le Rahein Hain Log Mere Dard-o-Gham Ka,
Ai Ishq Dekh Tu Ne To Mera Tamaasha Hi Bana Diya.
कितना लुत्फ ले रहे हैं लोग मेरे दर्द-ओ-ग़म का,
ऐ इश्क़ देख तूने तो मेरा तमाशा ही बना दिया।
---
Bewafa Shayris
Bewafa Shayris – For Facebook and WhatsApp, Bewafa Shayari is also accessible with images and a two-line Bewafa status in Hindi.
Barse Bagair Hi Jo Ghataa Aakar Nikal Gayi,
Ek Bewafa Ka Ahd-E-Wafa Yaad Aa Gaya.
बरसे बगैर ही जो घटा आकर निकल गयी,
एक बेवफा का अहद-ए-वफ़ा याद आ गया।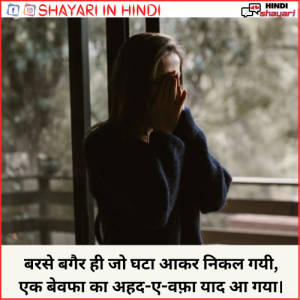 Wo Poochhti Thi Aksar Maine Samjha Nahi,
Hum Kisi Aur Ke Ho Jayein To Kya Karoge?
वो पूछती थी अक्सर मैंने समझा नहीं,
हम किसी और के हो जाएं तो क्या करोगे?