Cute Shayari In Hindi – Hello, guys I'm here with the most recent collection of Hindi love poems. I hope you enjoy this post about Hindi Love Shayari. The Hindi Love Shayari with HD photos is available for download.
dhdkano ko thaam krna
kyunki agar hum paas aa gaye
to tum khud ko bhula donge
धड़कनों को थाम कर रखना।
क्यूंकि अगर हम पास आ गए
तो तुम खुद को भुला दोगे।
shauk lag gaya h bus uske naam ka
ab nahi ye jahan mere kisi kaam ka
शौक लग गया है बस उसके नाम का,
अब नहीं ये जहां मेरे किसी काम का।
---
Bhojpuri Shayari
Bhojpuri Shayari – The ideal location for Hindi Bhojpuri Shayari. Images of bhojpuri me shayari. images of sorrowful shayari in bhojpuri. Bhojpuri shayari image in Hindi. Hindi shayari in bhojpuri with an English typeface.
Piya Gayile Pardesh Jiyab Kaise,
Fatal Ba Karejwa Siyab Kaise!
पिया गईलें परदेश जियब कईसे,
फाटल बा करेजवा सीयब कईसे!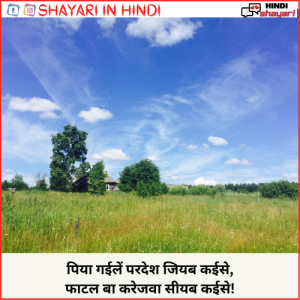 Humke Kab Chah Rahe Ki Humke
Ou Chand Mile Ya Aasman Mile,
Khali Aigo Tamanna Rahe Ki
Hamar Ou Sapna Ke Jahan Mile….
हमके कब चाह रहे कि हमके
ऊ चाँद मिले य़ा असमान मिले,
खाली एगो तमन्ना रहे की
हमार ऊ सपना के जहाँ मिले
---
Feeling Sorry Shayari
Feeling Sorry Shayari – Your quest for Sorry Shayari Hindi of love has come to an end since we have provided you with the top 100+ most beautiful and effective Sorry Shayari Hindi and English fonts.
Galatee To Ho Gayee Hai,
Ab Kya Maar Daaloge?
Maaf Bhee Kar Do Ai Sanam,
Ye Galaphahamee Kab Tak Paaloge?
गलती तो हो गयी है,
अब क्या मार डालोगे?
माफ़ भी कर दो ऐ सनम,
ये गलफहमी कब तक पालोगे?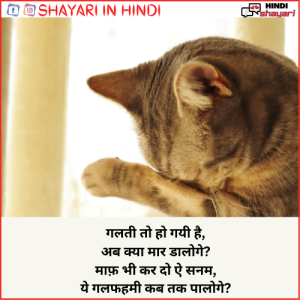 Sach Kahoon To Har Pal Aap Mujhe Yaad Aate Hai,
Jaan Nikal Jaatee Hai Jab Aap Rooth Jaate Hai.
सच कहूँ तो हर पल आप मुझे याद आते है,
जान निकल जाती है जब आप रूठ जाते है।