Dosti Shayari In Hindi – Here is a well picked selection of Hindi Dosti shayari. On this website, you may download HD versions of every Dosti shayari.
Zindagi Har Pal Kuchh Khaas Nahi Hoti,
Phoolo Ki Khushboo Hamesha Paas Nahi Hoti,
Milna Humari Takdeer Mein Tha Varna,
Itni Pyari Dosti ittefaaq Nahi Hoti.
ज़िन्दगी हर पल कुछ खास नहीं होती,
फूलों की खुशबू हमेशा पास नहीं होती,
मिलना हमारी तक़दीर में था वरना,
इतनी प्यारी दोस्ती इत्तेफाक नहीं होती।
Zindagi Ke Toofanon Ka Saahil Hai Dosti,
Dil Ke Armaanon Ki Manzil Hai Dosti,
Zindagi Bhi Ban Jayegi Apni To Jannat,
Agar Maut Aane Tak Saath De Dosti.
ज़िन्दगी के तूफानों का साहिल है दोस्ती,
दिल के अरमानों की मंज़िल है दोस्ती,
ज़िन्दगी भी बन जाएगी अपनी तो जन्नत,
अगर मौत आने तक साथ दे दोस्ती।
---
Broken Heart Shayari
Broken Heart Shayari – Hello, friends Have you ever had a heartbreak? Are you depressed? Simply go through our special selection of broken heart shayari to relax.
Dil Ki Kya Bisaat Thi Nigaah-e-Jamaal Mein,
Ek Aayina Tha Toot Gaya Dekh-Bhaal Mein.
दिल की क्या बिसात थी निगाह-ए-जमाल में,
इक आइना था टूट गया देख-भाल में।
Aisa Nahi Hai Ki Ab Teri Justjoo Nahi Rahi,
Bas Toot Kar Bikharne Ki Aarzoo Nahi Rahi.
ऐसा नहीं है कि अब तेरी जुस्तजू नहीं रही,
बस टूट कर बिखरने की आरज़ू नहीं रही।
---
Best Shayari
Best Shayari – For the benefit of those who enjoy shayari, we have included every Shero Shayari in both Hindi and English script.
Jinka Milna Mukaddar Mein Likha Nahi Hota,
Unse Mohabbat Kasam Se Ba-Kamaal Hoti Hai.
जिनका मिलना मुकद्दर में लिखा नहीं होता,
उनसे मोहब्बत कसम से बा-कमाल होती है।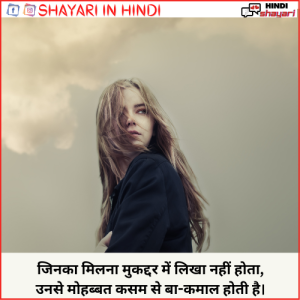 Dil Se Poochho To Aaj Bhi Tum Mere Hi Ho,
Ye Aur Baat Hai Ki Kismat Dagaa Kar Gayi.
दिल से पूछो तो आज भी तुम मेरे ही हो,
ये ओर बात है कि किस्मत दगा कर गयी।