Dard Maa Shayari – Mother's Day Par Shayari for Maa, Maa Love You Shayari, Maa ki Pyar wali Shayari, Maa Two Line Shayari, Maa Status in Hindi Image Quotes.
Chalti Firti Aankhon Se Azaan Dehi Hai,
Maine Jannat To Nahi Dekhi Hai Maa Dekhi Hai.
चलती फिरती आँखों से अज़ाँ देखी है,
मैंने जन्नत तो नहीं देखी है माँ देखी है।
Seedha Sadha Bhola Bhala Main Hi Sabse Achchha Hoon,
Kitna Bhi Ho Jaaun Bada Maa Aaj Bhi Tera Bachcha Hoon.
सीधा साधा भोला भाला मैं ही सब से सच्चा हूँ,
कितना भी हो जाऊं बड़ा माँ आज भी तेरा बच्चा हूँ।
---
Dardnak Shayari
Dardnak Shayari – Hindi Dard Bhari Shayari Dard shayari is a style of poetry that is written when someone's heart is in excruciating pain.
Tu hi mera pyar hai
Tu hi meri bandagi
Tu hi mera khwab hai
Tu hi meri zindagi
तू ही मेरा प्यार है ,
तू ही मेरी बंदगी।
तू ही मेरा ख्वाब है ,
तू ही मेरी ज़िन्दगी।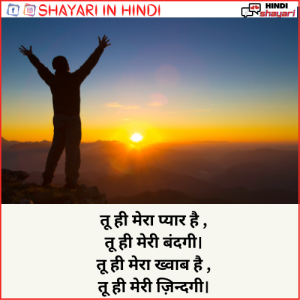 Mein lab hu ,meri baat ho tum
Mein tab hu , jab mere sath ho tum
मैं लब हूँ , मेरी बात हो तुम
मैं तब हूँ , जब मेरे साथ हो तुम।
---
Happy Dp For Girl
Happy Dp For Girl – In 2023, this app will offer Two Line Shayari in Hindi. The Best Shayari for WhatsApp in 2023 are available in this app.
Apna khyal rakha karo
beshal sans tumhari hai
par jaan to humari hai.
अपना ख्याल रखा करो,
बेशक साँस तुम्हारी है पर
जान तोह हमारी है।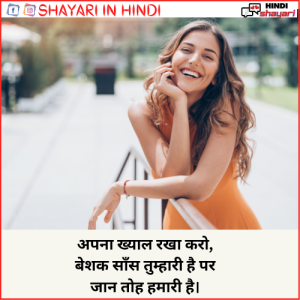 Meri zindagi Meri jaan ho
tum Mere sukoon ka Dusra
naam ho tum.
मेरी जिंदगी मेरी जान हो तुम
मेरे सुकून का दुसरा नाम हो तुम।