Maa Shayari In Hindi – In Hindi, we have a lovely selection of Maa Shayari. For Maa on this Mother's Day, you might send your favourite Shayari.
Sar Par Jo Haath Fere To Himmat Mil Jaye,
Maa Ek Baar Muskura De To Jannat Mil Jaye
सर पर जो हाथ फेरे तो हिम्मत मिल जाये,
माँ एक बार मुस्कुरा दे तो जन्नत मिल जाये।
Chalti Firti Aankhon Se Azaan Dehi Hai,
Maine Jannat To Nahi Dekhi Hai Maa Dekhi Hai.
चलती फिरती आँखों से अज़ाँ देखी है,
मैंने जन्नत तो नहीं देखी है माँ देखी है।
---
Mere Yaar
Mere Yaar – Check out the greatest selection. 250+ two-line Hindi Shayari with photos, two lines of Royal Dosti Status Shayari.
Waqt ki yaari to sab karte
ha maja to tab hai jab waqt
badal jaye lekin yaar na
badale.
वक्त की यारी तो सब करते हैं,
मजा तो तब है,जब वक्त बदल
जाये लेकिन यार न बदले.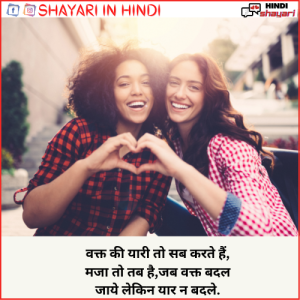 Dushman ko jalana aur
doston ke liye jaan ki baji
lagana fitrat hai humari.
दुश्मन को जलाना और दोस्त के लिए,
जान की बाजी लगाना फितरत है हमारी.
---
Kya Mast Hai Life
Kya Mast Hai Life – Hello, guys I'm here with the newest Happy Shayari collection. I hope you enjoy this Happy Shayari Hindi article.
Bano to gulab ke fool bano
Kyunki ye uske hath me bhi
khushbu chhodta h
Jo ise masal kar fenk deta h
बनो तो गुलाब के फूल बनो ,
क्यूंकि ये उसके हाथ में भी 
खुशबू छोड़ता है
जो इसे मसल कर फेंक देता है।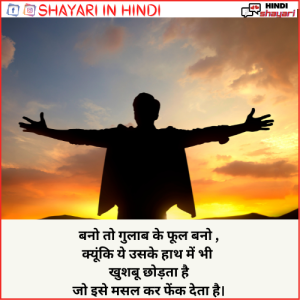 Itna khush raho ki
Duniya pareshan ho jaye ki
Ise kis bat ki khushi h
इतना खुश रहो कि
दुनिया परेशान  हो जाये कि
इसे किस बात की ख़ुशी है।