Gd Mrng Shayri – Make your friends and family smile by sending them a heartfelt good morning message in Hindi.
Os Ki Boondein Phoolon Ko Bhiga Rahi Hain,
Hawa Ki Lehrein Ek Taazgi Jaga Rahi Hain,
Aaiye Aur Ho Jayiye Aap Bhi Ismein Shamil,
Ek Pyari Si Subah Aapko Bula Rahi Hai.
Good Morning!
ओस की बूँदें फूलों को भिगा रहीं हैं,
हवा की लहरें एक ताज़गी जगा रहीं हैं,
आइये और हो जाइये आप भी इसमें शामिल,
एक प्यारी सी सुबह आपको बुला रही है।
Iss Subah Ka Ujaala Sada Aapke Sath Ho,
Din Ka Har Pal Aap Ke Liye Kuchh Khas Ho,
Duaa Hamesha Nikalti Hai Dil Se Aap Ke Liye,
Dhher Sari Khushiyon Ka Khazana Aapke Paas Ho.
Good Morning Dear… Good Day…
इस सुबह का उजाला सदा आपके साथ हो,
दिन का हर पल आप के लिए कुछ खास हो,
दुआ हमेशा निकलती है दिल से आप के लिए,
ढेर साडी खुशियों का खजाना आपके पास हो। सुप्रभात।।
---
Zindgi Shayari
Zindgi Shayari – Downloadable HD shayari images for Zindagi Shayari in Hindi and Urdu. With the help of these touching shayari on Zindagi, embrace the beauty of life.
Har khwab aur har khwahish
puri ni hoti har kisi ki zindagi
me aap zaruri nahi hote.
हर ख्वाब और हर ख्वाहिशें पूरी
नहीं होती, हर किसी के ज़िंदगी
में आप जरुरी नहीं होते.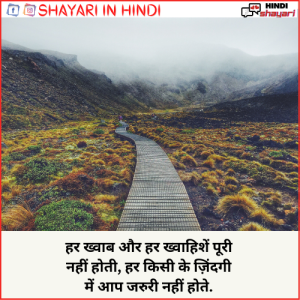 ham sab ki jindagi ka bus ek
hi fasana hai mitti se Bane
ha aur mitti me hi mil jana h.
हम सबकी ज़िंदगी का बस एक ही
फसाना है,मिट्टी से बने है और मिट्टी
में ही मिल जाना है.
---
Sad Quotes In Hindi
Sad Quotes In Hindi – The finest way to communicate your inner grief on social media is using So Sad Shayari.
Dil Ko Bujhane Ka Bahaana Koi Darkaar To Tha,
Dukh To Ye Hai Tere Daaman Ne Hawayen Di Hain.
दिल को बुझाने का बहाना कोई दरकार तो था,
दुःख तो ये है तेरे दामन ने हवायें दी हैं।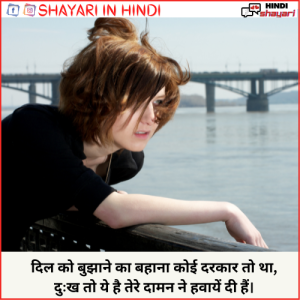 Woh Mera Sab Kuchh Hai Par Muqaddar Nahi,
Kaash Wo Mera Kuchh Na Hota Par Muqaddar Hota.
वह मेरा सब कुछ है पर मुक़द्दर नहीं,
काश वो मेरा कुछ न होता पर मुक़द्दर होता।