Good Night In Hindi – Those who like sending good night SMS messages to their pals will undoubtedly find the best good night shayari in hindi to be of great assistance.
Jaane Kab Aapki Aankho Se Izhar Hoga,
Aapke Dil Mein Humare Liye Pyar Hoga,
Gujar Rahi Hai Yeh Raat Aapki Yaad Mein,
Kabhi Toh Aapko Bhi Humara Intezaar Hoga.
जाने कब आपकी आँखों से इजहार होगा,
आपके दिल में हमारे लिए प्यार होगा,
गुजर रही है ये रात आपकी याद में,
कभी तो आपको भी हमारा इंतज़ार होगा।
Mithi Mithi Yadon Ko Dil Me Saja Lena,
Saath Guzaare Pal Ko Palko Me Basa Lena,
Dil Ko Fir Bhi Na Mile Sukoon To,
Muskura Ke Mujhe Apne Sapno Me Bula Lena!
मीठी-मीठी यादों को दिल में सजा लेना,
साथ गुजारे पल को पलकों में बसा लेना,
दिल को फिर भी न मिले सुकून तो,
मुस्कुरा के मुझे अपने सपनों में बुला लेना।
---
Intezar
Intezar – Hello, you are presently on the collection of Intezar Shayari pages. You may read Hindi poetry here called Intezaar Shayari.
Fariyad Kar Rahi Hai Ye Tarsi Huyi Nigaah,
Dekhe Huye Kisi Ko Zamana Gujar Gaya.
फरियाद कर रही है यह तरसी हुई निगाह,
देखे हुए किसी को ज़माना गुजर गया।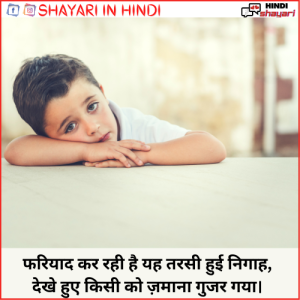 Ye Keh-Keh Ke Hum Dil Ko Samjha Rahe Hain,
Wo Ab Chal Chuke Hai Wo Ab Aa Rahe Hain.
ये कह-कह के हम दिल को समझा रहे हैं,
वो अब चल चुके हैं वो अब आ रहे हैं।
---
Life Sms In Hindi
Life Sms In Hindi – Life Shayari is about both positive and negative events. The finest life shayari with images, sad zindagi shayari, life quotes, and zindagi status in hindi can all be found here.
Bade Hi Ajeeb Hain Ye Zindagi Ke Raaste,
Anjane Mod Par Kuchh Log Apne Ban Jate Hain,
Milne Ki Khushi Dein Ya Na Dein,
Magar Bichadne Ka Gam Zaroor De Jate Hain.
बड़े ही अजीब हैं ये ज़िन्दगी के रास्ते,
अनजाने मोड़ पर कुछ लोग अपने बन जाते हैं,
मिलने की खुशी दें या न दें,
मगर बिछड़ने का गम ज़रूर दे जाते हैं।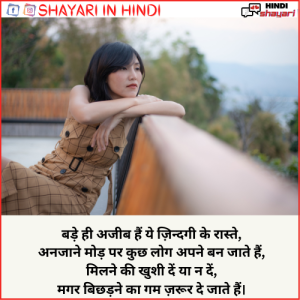 Ajeeb Tarah Se Gujar Gayi Meri Bhi Zindagi,
Socha Kuchh, Kia Kuchh, Hua Kuchh, Mila Kuchh.
अजीब तरह से गुजर गयी मेरी भी ज़िन्दगी,
सोचा कुछ, किया कुछ, हुआ कुछ, मिला कुछ।