Hindi Love S – Lovers have always enjoyed Loving Shayari. Everyone enjoys reading love poetry, even in the social media era.
Dil Ki Aawaj Ko Ijhaar Kahte Hain,
Jhuki Huyi Nigaah Ko Ikraar Kahte Hain,
Sirf Paane Ka Naam Hi Ishq Nahi,
Kuchh Khone Ko Bhi Pyar Kehte Hain.
दिल की आवाज़ को इज़हार कहते हैं,
झुकी हुयी निगाह को इकरार कहते हैं,
सिर्फ पाने का नाम ही इश्क नहीं,
कुछ खोने को भी प्यार कहते हैं।
Haal To Puchh Lu Tera Par Darrta Hun Aawaz Se Teri,
Jab Jab Suni Hai Kambakht Mohabbat Hi Huyi Hai.
हाल तो पूछ लूँ तेरा पर डरता हूँ आवाज़ से तेरी,
जब जब सुनी है कमबख्त मोहब्बत ही हुई है।
---
Love Beautiful Shayari
Love Beautiful Shayari – Here you may read the greatest Romantic Shayari in Hindi that a lover might feel.
Na Tumhein Hosh Rahe Aur Na Mujhe Hosh Rahe,
Iss Qadar Toot Ke Chaaho Mujhe Pagal Kar Do.
न तुम्हें होश रहे और न मुझे होश रहे,
इस क़दर टूट के चाहो मुझे पागल कर दो।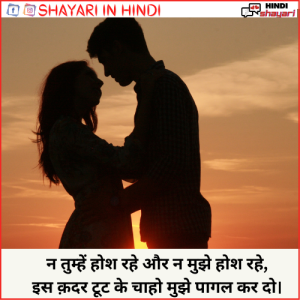 Chamka Na Karo Jugnoo Ki Tarha Raat Ko,
Le Jaunga Mutthi Mein Kisi Roz Chhupa Kar.
चमका न करो जुगनू की तरह रात को,
ले जाउंगा मुट्ठी में किसी रोज़ छुपा कर।
---
Hindi Shayari Quotes
Hindi Shayari Quotes – You would like reading the heartfelt Hindi Shayari found here. For the benefit of those who enjoy shayari, we have included every Shero Shayari in both Hindi and English script.
Jin Ke Aangan Mein Ameeri Ka Shajar Lagta Hai,
Unka Har Aib Bhi Jamane Ko Hunar Lagta Hai.
जिन के आंगन में अमीरी का शजर लगता है,
उन का हर एब भी जमानें को हुनर लगता है।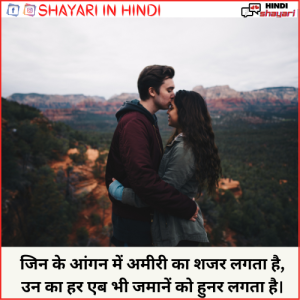 Sari Galti Hum Apni Kismat Ki Kaise Nikal Dein
Kuchh Sath Humara Teri Ameeri Ne Bhi Toda Hai.
सारी गलती हम अपनी किस्मत की कैसे निकल दें,
कुछ साथ हमारा तेरी अमीरी ने भी तोडा है।