Hindi Love Shayari – Lovers have always enjoyed Loving Shayari. Everyone enjoys reading love poetry, even in the social media era.
Uss Ne Mohabbat, Mohabbat Se Jyada Ki Hai,
Hum Ne Mohabbat Uss Se Bhi Jyada Ki Hai,
Ab Wo Kise Kahega Mohabbat Ki Intehaan,
Humne Shuruat Hi Intehaan Se Jyada Ki Hai.
उसने मोहब्बत, मोहब्बत से ज्यादा की है,
हम ने मोहब्बत उस से भी ज्यादा की है,
अब वो किसे कहेगा मोहब्बत की इन्तेहां,
हमने शुरुआत ही इन्तेहां से ज्यादा की है।
Meri Takmeel Mein Shamil Hain Kuchh Tere Hisse Bhi,
Hum Agar Tujhse Na Milte Toh Adhoore Rah Jate.
मेरी तकमील में शामिल हैं कुछ तेरे हिस्से भी,
हम अगर तुझसे न मिलते तो अधूरे रह जाते।
---
Sad Alone Poetry
Sad Alone Poetry – Read the most recent shayari about a lonely and depressed lover here. New poetry collection about Tanhai, Akelapan, and loneliness
Aaj Ek Aur Baras Beet Gaya Uske Bagair,
Jis Ke Hote Huye Hote The Zamane Mere.
आज एक और बरस बीत गया उस के बग़ैर,
जिस के होते हुए होते थे ज़माने मेरे।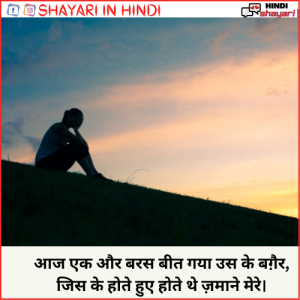 Iss Se Pehle Ki Mujh Ko Sabr Aa Jaye,
Kitna Achha Ho Ki Laut Aao Tum.
इस से पहले कि मुझ को सब्र आ जाए,
कितना अच्छा हो कि लौट आओ तुम।
---
Sayaro
Sayaro – Currently, Shero-Shayari websites are abundant online. To post on social media, people are looking for Shayaris of their choosing.
Tera Khayal Dil Se Mitaya Nahi Abhi,
BeWafa Maine Tujhko Bhulaya Nahi Abhi.
तेरा ख्याल दिल से मिटाया नहीं अभी,
बेवफा मैंने तुझको भुलाया नहीं अभी।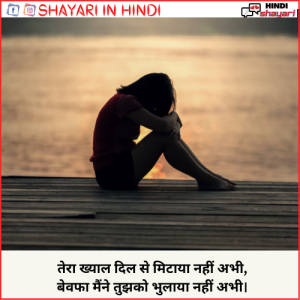 Humse Na Kariye Baatein Yoon Berukhi Se Sanam,
Hone Lage Ho Kuchh-Kuchh Bewafa Se Tum.
हमसे न करिये बातें यूँ बेरुखी से सनम,
होने लगे हो कुछ-कुछ बेवफा से तुम।