Hindi Sad Shayri – Due to factors like love, life, or friends, we occasionally experience extreme sadness. Our unhappy feelings are trying to escape from our hearts.
Mohabbat Haar Ke Jeena Bahut Mushkil Hota Hai,
Usey Bas Itna Bata Dena Bharam Toda Nahi Karte.
मोहब्बत हार के जीना बहुत मुश्किल होता है,
उसे बस इतना बता देना भरम तोड़ा नहीं करते।
Jiske Naseeb Mein Hon Zamane Ki Thhokarein,
Uss BadNaseeb Se Na Sahaaron Ki Baat Kar.
जिसके नसीब मे हों ज़माने की ठोकरें,
उस बदनसीब से ना सहारों की बात कर।
---
Sad Bewafa Shayari In Hindi
Sad Bewafa Shayari In Hindi – Bewafa Shayari in Hindi and Urdu with download-ready HD shayari graphics. This is a well picked selection of Hindi Bewafa shayari.
Barse Bagair Hi Jo Ghataa Aakar Nikal Gayi,
Ek Bewafa Ka Ahd-E-Wafa Yaad Aa Gaya.
बरसे बगैर ही जो घटा आकर निकल गयी,
एक बेवफा का अहद-ए-वफ़ा याद आ गया।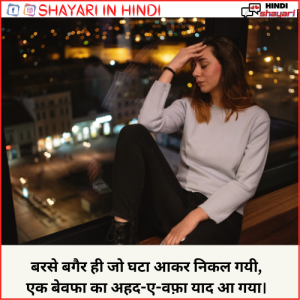 Wo Poochhti Thi Aksar Maine Samjha Nahi,
Hum Kisi Aur Ke Ho Jayein To Kya Karoge?
वो पूछती थी अक्सर मैंने समझा नहीं,
हम किसी और के हो जाएं तो क्या करोगे?
---
Best Shayri
Best Shayri – You would like reading the heartfelt Hindi Shayari found here. For the benefit of those who enjoy shayari, we have included every Shero Shayari in both Hindi and English script.
Tamannao Ki Mehfil To Har Koyi Sajata Hai,
Puri Uski Hoti Hai Jo Takdeer Lekar Aata Hai.
तमन्नाओ की महफ़िल तो हर कोई सजाता है,
पूरी उसकी होती है जो तकदीर लेकर आता है।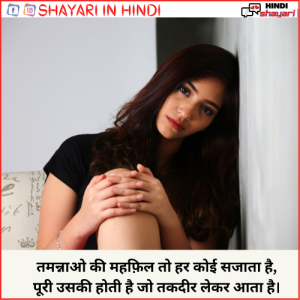 Kabhi Jo Mujhe Haq Mila Apni Takdeer Likhne Ka,
Kasam Khuda Ki Tera Naam Likh Kar Kalam Tor Dunga.
कभी जो मुझे हक मिला अपनी तकदीर लिखने का
कसम खुदा की तेरा नाम लिख कर कलम तोड दूंगा।