Hindi Shayri On Life – You may get here the most recent and greatest life shayari in Hindi, as well as life shayari with images.
Wo Mujh Se Bichhda Toh Bichhad Gayi Zindagi,
Main Zinda Toh Raha Magar Zindon Mein Na Raha.
वो मुझसे बिछड़ा तो बिछड़ गई जिंदगी,
मैं ज़िंदा तो रहा मगर ज़िंदों में न रहा।
Humse Mat Puchhiye Zindagi Ke Baare Mein,
Aznabi Kya Jaane Abnabi Ke Baare Mein.
हमसे मत पूछिए ज़िन्दगी के बारे में,
अजनबी क्या जाने अजनबी के बारे में।
---
Alone Shayari
Alone Shayari – Read the most recent shayari about a lonely and depressed lover here. New poetry collection about Tanhai, Akelapan, and loneliness
Akele To Hum Pehle Bhi Jee Rahe The,
Kyun Tanha Se Ho Gaye Hain Tere Jane Ke Baad.
अकेले तो हम पहले भी जी रहे थे,
क्यूँ तन्हा से हो गए हैं तेरे जाने के बाद।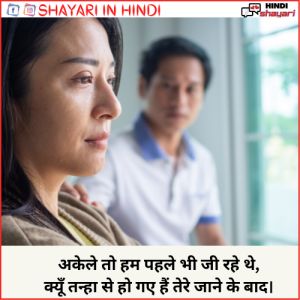 Kisi Haalat Mein Bi Tanha Nahi Hone Deti,
Hai Yahi Ek Kharabi Meri Tanhai Ki.
किसी हालत में भी तन्हा नहीं होने देती,
है यही एक खराबी मेरी तन्हाई की।
---
Shayri Best
Shayri Best – You would like reading the heartfelt Hindi Shayari found here. For the benefit of those who enjoy shayari, we have included every Shero Shayari in both Hindi and English script.
Iss Kahani Ke Woh Kirdar Kahan Se Laaun,
Wohi Dariya Hai Wohi Kachche Ghade Rakhe Hain,
इस कहानी के वो किरदार कहाँ से लाऊं,
वो ही दरिया है वो ही कच्चे घड़े रखे हैं।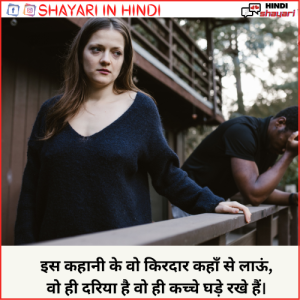 Din Ki Roshni Khwab Banane Mein Gujar Gayi,
Raat Ki Neend Bachche Ko Sulaane Mein Gujar Gayi,
Jis Ghar Mein Mere Naam Ki Takhti Bhi Nahi Hai,
Saari Umar Uss Ghar Ko Banaane Mein Gujar Gayi.
दिन की रोशनी ख्वाबों को सजाने में गुजर गई,
रात की नींद बच्चे को सुलाने मे गुजर गई,
जिस घर मे मेरे नाम की तख्ती भी नहीं,
सारी उमर उस घर को बनाने में गुजर गई।