Hot Shero Shayari – Recent romantic shayari that is hot and 2 line romantic shayari in Hindi are both in high demand.
Baat batane ka bahana kar ke,
Maine chooma tha uske galo ko
Ab wo roz zid karti hai
Ki mujhe wo baat batao
बात बताने का बहाना कर के,
मैंने चूमा था उसके गालों को,
अब वो रोज जिद करती है,
की मुझे वो बात बताओ।
Pyaar ka tufan jab bhi seene me uthta hai,
Tumhe choom ke gale lagane ko jee chahta hai.
प्यार का तूफान जब भी सीने में उठता है,
तुम्हे चूम के गले लगाने को जी चाहता है।
---
Gandi Shayari
Gandi Shayari – Hello, guys I'm here with the most recent collection of Hindi Love Kiss Shayari Images. I hope you enjoy this post on Love Photo Kiss Shayari.
Unke labo ka asar kuch aisa hua,
Ki mai sari raat apne hotho ko choosta raha.
उनके लबों का असर कुछ ऐसा हुआ,
कि मैं सारी रात अपने होठों को चूसता रहा।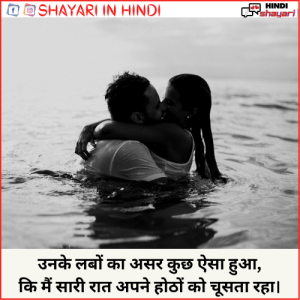 Tere kareeb aane ka sochkar hi
Hath-paav tharthara jate hai,
Socho tab kya hoga
Jab mere hoth, tere labo ke kareeb honge
तेरे करीब आने का सोचकर ही
हाथ–पांव थरथरा जाते हैं
सोचो तब क्या होगा
जब मेरे होंठ, तेरे लबों के करीब होंगे
---
Kiss Shayari
Kiss Shayari – Hi Guys, I've got the newest collection of Hindi Love Kiss Shayari and Love Kiss Shayari images for you. I sincerely hope you enjoy this Love Photo Kiss Shayari post.
Jabse meri mohabbat badha rahi hai,
Unke labo ko chhune ki
Meri hasrat badh rahi hai.
जबसे मेरी मोहब्बत बढ़ रही है,
उनके लबों को छूने की मेरी हसरत बढ़ रही है।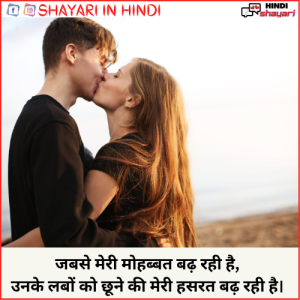 Hotho ko tere hotho se lagana chahte hai,
Baho me apni tumhe chhupana chahte hai
Had-ae-mohabbt par kar ke
Aaj tujhe apna banana chahte hai.
होंटों को तेरे होंटों से लगाना चाहते हैं,
बाँहों में अपनी tumhe छुपाना चाहते है,
हद–ए–मोहब्बत पार कर के
आज तुझे अपना बनाना चाहते है