Indian Romance Shayari – Click here to view Romantic Shayari in Hindi. For Facebook and Whatsapp, we offer a lovely selection of the most recent romantic shayari, romantic SMS, and romantic statuses.
Iss Se Zyada Tujhe Aur Kitna Qareeb Laaun Main,
Ki Tujhe Dil Mein Rakh Kar Bhi Mera Dil Nahi Bharta.
इससे ज़्यादा तुझे और कितना करीब लाऊँ मैं,
कि तुझे दिल में रख कर भी मेरा दिल नहीं भरता।
Tum Mil Gaye To Mujh Se Naraj Hai Khuda,
Kahta Hai Ke Tu Ab Kuchh Mangta Nahi Hai.
तुम मिल गए तो मुझ से नाराज है खुदा,
कहता है कि तू अब कुछ माँगता नहीं है।
---
Maa Status Shayari
Maa Status Shayari – In our world, there is no alternative for a mother, who is regarded as the second manifestation of God.
Sar Par Jo Haath Fere To Himmat Mil Jaye,
Maa Ek Baar Muskura De To Jannat Mil Jaye.
सर पर जो हाथ फेरे तो हिम्मत मिल जाये,
माँ एक बार मुस्कुरा दे तो जन्नत मिल जाये।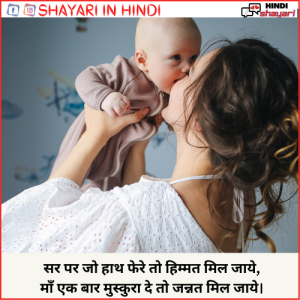 Seedha Sadha Bhola Bhala Main Hi Sabse Achchha Hoon,
Kitna Bhi Ho Jaaun Bada Maa Aaj Bhi Tera Bachcha Hoon.
सीधा साधा भोला भाला मैं ही सब से सच्चा हूँ,
कितना भी हो जाऊं बड़ा माँ आज भी तेरा बच्चा हूँ।
---
Shero Shayari
Shero Shayari – We've included some beautiful English Shayari in this post. One of the finest ways to convey feelings in a few words is with a shayari.
mat mangna meri lambi umar ki
dua khuda se bas meri zindagi ka
safar tab tak ka likh do jab tak
hum sath ha..
मत मांगना मेरी लम्बी उम्र की दुआ खुदा से,
बस मेरी ज़िन्दगी का सफर तब तक का लिख
दो जब तक हम साथ है।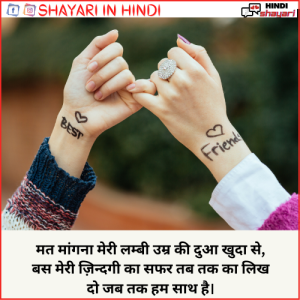 Tumne zindagi ka naam to suna
hi hoga mene pukara hai tumhe
aksar us naam se.
तुमने जिंदगी का नाम तो सुना ही होगा,
मैंने पुकारा है तुम्हें अक्सर उस नाम से.