Sad Broken Shayari – Hello, friends Have you ever had a heartbreak? Are you depressed? Simply go through our special selection of broken heart shayari to relax.
Aisa Nahi Hai Ki Ab Teri Justjoo Nahi Rahi,
Bas Toot Kar Bikharne Ki Aarzoo Nahi Rahi.
ऐसा नहीं है कि अब तेरी जुस्तजू नहीं रही,
बस टूट कर बिखरने की आरज़ू नहीं रही।
Mujhe Parhej Hai Zakhmo Ki Numaaish Se,
Mere HumDard Rehne De Dil-e-Beemar Ki Baatein.
मुझे परहेज है ज़ख्मों की नुमाइश से,
मेरे हमदर्द रहने दे दिले-बीमार की बातें।
---
Pyar Shayari
Pyar Shayari – English Shayari, English Shayari Love, English Love Shayari, Sad English Shayari, English Me Shayari, and English Shayari.
Iss Lafz-e-Mohabbat Ka Itna Sa Fasaana Hai,
Simte To Dil-e-Aashiq Bikhre To Zamana Hai.
इस लफ्ज-ए-मोहब्बत का इतना सा फसाना है,
सिमटे तो दिल-ए-आशिक बिखरे तो जमाना है।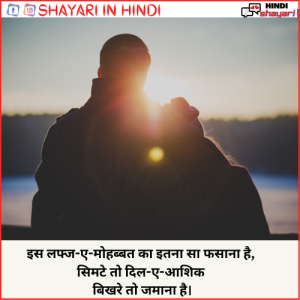 Meri Takmeel Mein Shamil Hain Kuchh Tere Hisse Bhi,
Hum Agar Tujhse Na Milte Toh Adhoore Rah Jate.
मेरी तकमील में शामिल हैं कुछ तेरे हिस्से भी,
हम अगर तुझसे न मिलते तो अधूरे रह जाते।
---
Meri Zindagi Shayari
Meri Zindagi Shayari – Are you seeking for English Shayari that is heartfelt? Here is a wonderful collection of two-line short love shayari in English for lover and girlfriend.
manjilen mujhe chhod gai
raste mein Sambhal liya
jindagi Teri jarurat nahin
mujhe hath Sone pa liya.
मंजिलें मुझे छोड़ गयी रास्तों ने
संभाल लिया जिंदगी तेरी जरूरत
नहीं मुझे हादसों ने पाल लिया.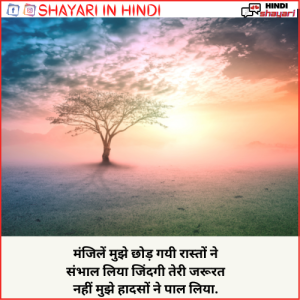 meri har sans mein tu
hai meri har Khushi
mein tu hai Tere bin
jindagi kuchh nahin
kyunki meri Puri jindagi
hi tu hai.
मेरी हर सांस में तू हैं,मेरी हर
ख़ुशी में तू हैं,तेरे बिन जिन्दगी
कुछ नहीं क्योंकि मेरी पूरी
जिन्दगी ही तू हैं।