Yaadein Shayari – Greatest shayari and statuses about missing someone in a large assortment. Read here about different feelings of remembering someone, such as sad yaad shayari (), teri yaadein shayari, and I miss you shayari.
Khwaab Aankhon Se Churana Meri Aadat Nahi,
Kisi Apne Ko Bhulana Meri Aadat Nahi,
Palkein Bhigo Leta Hoon Apno Ki Yaad Mein,
Magar Kisi Ko Rulana Meri Aadat Nahi.
ख़्वाब आँखों से चुराना मेरी आदत नहीं,
किसी अपने को भुलाना मेरी आदत नहीं,
पलकें भिगो लेता हूँ अपनों की याद में,
मगर किसी को रूलाना मेरी आदत नहीं।
Maloom Bhi Hai Ki Ye Mumkin Nahi Magar,
Ek Aas Si Rehti Hai Ki Wo Yaad Karega.
मालूम भी है कि ये मुमकिन नहीं मगर,
एक आस सी रहती है कि वो याद करेगा।
---
Dard Shayari
Dard Shayari – Dard Bhari Shayari experiences a great deal of suffering. The most recent collection of Dard Shayari in Hindi with English typeface is shown below.
Bahut Dard Hai Ai Jaan-e-Adaa Teri Mohabbat Mein,
Kaise Keh Doon Ki Tujhe Wafa Nibhani Nahi Aati.
बहुत दर्द हैं ऐ जान-ए-अदा तेरी मोहब्बत में,
कैसे कह दूँ कि तुझे वफ़ा निभानी नहीं आती।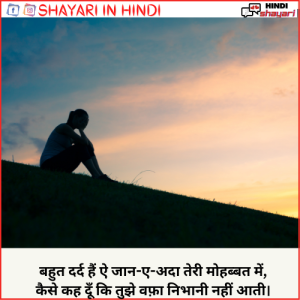 Kitna Lutf Le Rahein Hain Log Mere Dard-o-Gham Ka,
Ai Ishq Dekh Tu Ne To Mera Tamaasha Hi Bana Diya.
कितना लुत्फ ले रहे हैं लोग मेरे दर्द-ओ-ग़म का,
ऐ इश्क़ देख तूने तो मेरा तमाशा ही बना दिया।
---
Dil Se Dil Tak Shayari
Dil Se Dil Tak Shayari- Though it's not always easy, Shayari (Hindi Poetry) makes it simple to communicate affection.
Manta Hi Nahi Kambakht Dil Usey Chahne Se,
Main Haath Jodta Hoon To Ye Gale Pad Jata Hai.
मानता ही नहीं कमबख्त दिल उसे चाहने से,
मैं हाथ जोड़ता हूँ तो ये गले पड़ जाता है।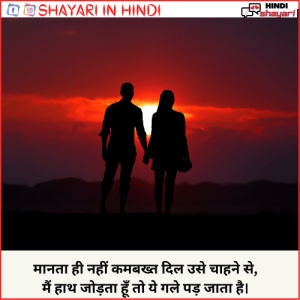 Na Poochh Dil Ki Hakiqat Magar Ye Kehta Hai,
Wo Bhi Bekaraar Rahe Jisne Bekarar Kiya.
न पूछ दिल की हकीक़त मगर ये कहता है,
वो भी बेक़रार रहे जिसने बेक़रार किया।